###
INTERVIEW WITH GUY ADKINS WHO STARS AS OSCAR LINDQUIST IN SWEET CHARITY
Guy Adkins Gives an ďOscarĒ Worthy Performance in Theatre Under the Stars and the National Touring Production of Sweet Charity
By Theresa Pisula
June 27, 2007
theresa@houstontheatre.com
For the National Tour of the revival of Sweet Charity, the role of Oscar Lindquist is performed by Guy Adkins. He has been playing the part of Oscar since the beginning of the tour last August 2006. The tour started with Molly Ringwald as Sweet Charity. After Molly left, Paige Davis joined the production team for the first week in Houston and for the remainder of the tour. He considers Oscar Lindquist a great part and he has a blast performing it every night of the show.
Guy Adkins was born on October 3rd, 1968 in East Lansing Michigan and grew up in a ďtiny, littleĒ town in Wisconsin where he went to school for Theatre and Dance. He graduated in Chicago and has been working there as an actor since the early Ď90s. From the beginning he did a lot of musical theatre. His goal at that time was to do straight theatre, Shakespeare and some of the classics right there in Chicago for as long as he could. ďSo, thatís what Iíve been doing for the last 14-15 years working in Chicago in Theatres like the Goodman, the Steppenwolf, the Court Theatre, the Chicago Shakespeare Theatre and places like that,Ē explains Mr. Adkins.
The revival of Sweet Charity is Guy Adkinsí first national touring production. Even though opportunities like these have come his way before, Guy hasnít taken advantage of them because he thought the lifestyle would be too difficult. ďIt was really hard for me in the beginning, really hard. But I do it now and I do like it, it truly is exciting,Ē says Guy. He states that the touring production is a different kind of challenge. He says that it is fun and at the same time, itís exhausting. ďA lot of the times we donít have a day off because we will travel and then on to our next destination. Sometimes we donít get to see that city at all. A lot of times we breeze in, we breeze out. Sometimes we feel we are on vacation and then all of a sudden we have to go back to work. Itís great if we get to experience the city. But I donít truly feel I get to experience the city because I have a job to do and if Iím too tired after I just went out sight-seeing, Iíd be too tired to do the show.Ē
He admits that the inspiration to get into Theatre probably stems from the fact that he liked the attention derived from growing up with his three sisters. ďBut I donít exactly do anything else. I donít have any other skills this is all I can do. So, I made a living out of it somehow. Iím lucky to be living my dream,Ē he says with the utmost humility. Because of his acting prowess, he is the recipient of three Joseph Jefferson Awards and Philadelphiaís Barrymore Award.
Theresa: I saw the performance last night and you were awesome!
Guy Adkins: Thanks! Thank you very much.
Theresa: Your performance reminded me of Leo Bloom, the part that Matthew Broderick played in The Producers.
Guy Adkins: Oh yeah?
Theresa: You know because he was having all these anxiety attacks.
Guy Adkins: Yeah exactly. And he is an accountant, the neurotic accountant. Actually, Iím set to play that part (in The Producers) after we close this one. Itíll be a production in Chicago.
Theresa: So how is it like performing with Molly Ringwald? Sheís amazing and I grew up watching her.
Guy Adkins: So did I, I know. It was great. It was like meeting my first crush. Sheís a great singer and obviously a great actor and an Icon for our generation, my generation certainly. She defined my teenage years in many ways, you know?
Theresa: I know, for me too.
Sweet Charity includes a classic score by Cy Coleman and Dorothy Fields with a hilarious book by none other than Neil Simon. It is directed by Scott Faris (South Pacific starring Robert Goulet) and choreographed by Wayne Cilento (Wicked, Aida). Show-stopping numbers include "If My Friends Could See Me Now," "Big Spender" and "Where Am I Going?" The musical received Tony Award nominations for "Best Musical Revival," "Best Choreography" and "Best Actress." The Wall Street Journal declared it "A blast." USA Today characterized Tony nominee Wayne Cilento's choreography as "exhilarating!"
Theresa: In your own words, tell us about the part that youíre playing.
Guy Adkins: He is a tax accountant who has a lot of fears. He goes through lots of different classes in order to meet people. And to come out of his shell, he describes himself as being ďemotional and extremely shyĒ. So I think he has a lot of things he tries to overcome in his life. He likes to go to church and experiments different kinds of church. And ultimately, what he wants is to meet the perfect girl for him and living in New York City he has become a little defeated about that happening.
Theresa: Right (laughs).
Guy Adkins: Charity provides for him an opposite attraction in that she is so idealistic and hopeful and joyous and fun. I think that the two of them are in many ways perfect for each other. Being so different and yet so similar, I think that his life is completely changed having encountered her and will be forever. As more people come into your life for certain reasons, it teaches you a lot of things such as not to be afraid obviously like that song ďIím the Bravest IndividualĒ. So, heís complicated and flawed. I can relate to him and to many of his flaws. Heís got a lot of hang-ups, a lot of expectations. I donít know where that comes from but I think heís gonna be okay. He certainly makes a lot of mistakes in the story.
Theresa: Yeah, I was a little disappointed. Actually you could hear the disappointment in the audience because everybody was expecting for the happy ending.
Guy Adkins: Yeah.
Theresa: It was more like the unhappy ending because of Oscar. It didnít turn out like Pretty Woman, the movie with Julia Roberts and Richard Gere. And I was thinking to myself, they could have updated it a little more, you know? Iím not asking them to re-write a classic but nowadays itís not a big deal to fall in love with an exotic dancer. I mean, they have rap songs now in the year 2007 where they rap about falling in love with a stripper. Itís part of our pop culture. And dancers like Charity are people too, you know.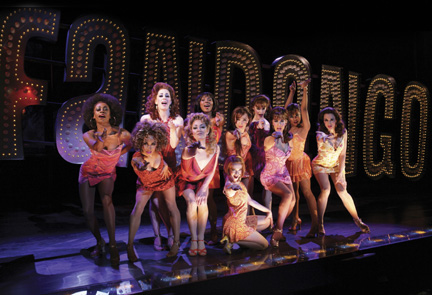 The girls of the Fandango Ballroom perform "BIG SPENDER" in the national touring production of SWEET CHARITY, presented by Theatre Under The Stars June 26 - July 8, 2007 at the Hobby Center (800 Bagby at Walker). Starring PAIGE DAVIS and Directed by Scott Faris, SWEET CHARITY features a book by none other than Neil Simon and includes a classic score by Cy Coleman and Dorothy Fields.
Guy Adkins: The show takes place in 1966.
Theresa: Oh, but you could hear the groan from the audience as Oscar made the decision to walk away. You could sense the audience thinking ďOh noÖÖheís leaving her.Ē
Guy Adkins: Heís gonna blow it, heís gonna blow it! He blew it.
Theresa: Even though the show takes place in the Ď60s, I would like to mention that the choreography by Wayne Cilento and the dance numbers were energetic and incredibly exciting. Accompanied by the songs and the music, itís going to make you want to dance no matter what generation youíre from. How did you become a part of this musical?
Guy Adkins: Okay, well I was working actually in New Jersey in a production of Midsummer Nightís Dream directed by Tina Landau and we were doing it at the McCarter Theater in Princeton for Paper Mill Playhouse. So I was in the area, I was in New York a lot. My New York agent just called me and asked me if I wanted to audition for this Touring Production. And that was it, I said, ďSure.Ē Actually at the time I had shoulder length white platinum blonde hair since I was playing Puck for Midsummer Nightís Dream. I had crazy hair and I never thought theyíd even look at me. And then I got a call back and auditioned for the rest of the creative staff. I found out that day actually that I got the part.
Theresa: Wow. That was fast.
Guy Adkins: It was, initially it was for the Casting Director and then I came back and met with the creative team 2 more times.
Theresa: And itís for singing and acting.
Guy Adkins: Yeah, I donít do a whole lot of dancing. But I have danced before. I used to dance when I was younger. Not as much anymore.
Theresa: I especially like the elevator scene, when you were crawling up the walls.
Guy Adkins: Yeah (laughs). It has gone through a lot of phases throughout the run of the play. I greatly admire our director Scott Faris who gave me free reign to explore the role physically. If you would have seen the show months ago, there probably wouldnít have as much different antics. There are a lot more antics now.
Theresa: So you improvised a lot and added a lot more to that scene?
Guy Adkins: Yeah, I mean, yeah. Not on a nightly basis but it changes here and there. Itís never quite the same. But it has changed a lot.
Theresa: What did you do to prepare for that scene? You were literally crawling up the walls that you were almost up to the ceiling. People were laughing hysterically. It was hilarious!!!
Guy Adkins: Itís kind of a famous scene so people remember it a lot. I was expected a lot from the scene when Denis OíHare did it. He was a genius so I tried like any actor, to make sure that I donít get too carried away with myself. Iím still actually a guy with claustrophobia and one whoís suffering from certain fears. I can get carried away and turn into a complete mad man.

Denis O'Hare
Theresa: Who are your most favorite actors?
Guy Adkins: Alan Rickman is one of my favorite actors. I really love him - heís just one of my all time favorites. Meryl Streep, sheís in a class by herself. Iím a big fan of Emma Thompson and a lot of Irish and British actors theyíre all trained in Shakespeare. I have a lot of respect for that.

Alan Rickman
Theresa: What about directors?
Guy Adkins: My favorite director Iíve worked with is Tina Landau whom Iíve worked with a number of times in Chicago and around the country. Sheís a New York based director who is also an author and has written a viewpoint book. Sheís one of my mentors. Iíd follow her anywhere to work with her. And as far directors Iíd like to work with, I feel really fortunate to be living in Chicago with really great directors and I havenít worked with projects that have been commercial or bound for glory. So, thereís never been a whole lot of expectation about money-making. Iíve been really lucky to be challenged creatively by the directors I have worked with not having a lot of pressure placed on me. So itís a great feeling as an actor to feel the directors trust you as I have seen most of the directors in Chicago do. But I havenít worked anywhere else really except for a couple of regional theaters around the country so I canít speak about anybody else.
Theresa: Who influences you as an artist?
Guy Adkins: As an artist, Iíd have to say Tina Landau again. Sheís been certainly one of the greatest artistic influences in my life.

Tina Landau. Photo courtesy of www.steppenwolf.org
Theresa: What would you like the audience to gain from watching the musical Sweet Charity?
Guy Adkins: Well I hope they get on board with Charity. Sheís the hero so Iím hoping that sometimes people will cheer when she gives me a rebuttal or rebuffs at me when she says ďUp yours, Oscar!Ē towards the ending. I always think thatís a great sign when the audience is in her court, you know? I want the audience to want the two of us to end up together. But I also want them to be glad that she doesnít and to be hopeful for her. I guess that and also for them to have a great time.
Theresa: Oh we had a blast!!! It was so much fun. It was great watching you guys. The set and the colors were so vibrant, the choreography is amazing. The singing and the dancing is contagious.
Guy Adkins: The dancers are certainly the stars of the show.
Theresa: As far as the touring production of Sweet Charity, where do you go after Houston?
Guy Adkins: We go to Kansas City the next week and after that we go to Milwaukee and then Dallas, and then San Diego.
Theresa: What are your plans after the tour?
Guy Adkins: After this I go back to Chicago and Iím gonna do The Producers. And then I have some upcoming projects, just keep working!
Theresa: Donít miss the National Touring Production of SWEET CHARITY starring Paige Davis and Guy Adkins. SWEET CHARITY is now showing in Houston through July 8th, 2007 and in a few weeks, to a theatre near you.

Theatre Under The Stars (TUTS) presents the touring cast of Sweet Charity June 26 - July 8, 2007 at Hobby Center for the Performing Arts (800 Bagby at Walker). Single tickets may be purchased by calling 713-558-TUTS or online at www.tuts.com. Photo by Craig Schwartz.