THEATRE UNDER THE STARS
www.tuts.com

Presents

THE TUTS 2004 - 2005 SEASON


THEATRE UNDER THE STARS BRINGS THE VERY BEST OF BROADWAY TO HOUSTON WITH ITS TIMELESS 2004-2005 SEASON

Theatre Under The Stars, one of America's largest producers of non-profit musical theatre, was founded in 1968 by Frank M. Young. Theatre Under The Stars was the first theatrical organization in Houston to perform free to the public at Miller Outdoor Theatre in Hermann Park, and has since performed there each summer, giving Houston 42 lavish musicals such as South Pacific, Fiddler on the Roof and The Who's Tommy. Since its founding, Theatre Under The Stars has produced more than 240 major musicals including many local, national and world premieres and is currently represented on Broadway with Beauty and the Beast. As a way to continue the tradition of musical theatre, Theatre Under The Stars' Humphreys School of Musical Theatre provides instruction and stage experience for more than 1,000 students annually. Now housed in the new Hobby Center for the Performing Arts, Theatre Under The Stars annually presents the American Musical Theatre Awards honoring individuals who have contributed significantly to the American musical, as well as the Tommy Tune Awards honoring the best and brightest in Houston's high school musical theatre programs.



-0-0-0-0-0-


SEPTEMBER 9 - 26, 2004
HAIR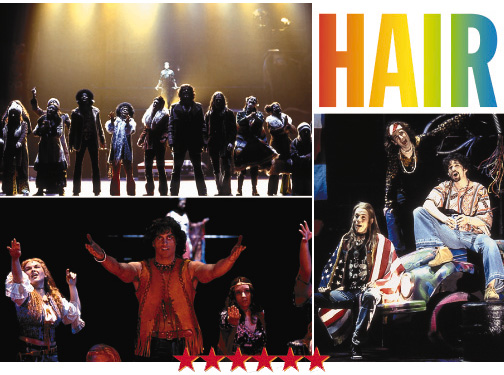 Hair became a ground - breaking and electrifying Broadway musical in 1968 and quickly became an international sensation. Hair shattered Broadway conventions with its vibrant and memorable score, its frank examination of war, peace, and sexuality, and its exuberant riot of color, sound and light. Performed in nearly every country of the world with eleven original cast albums in as many languages, Hair is one of the most popular, most innovative and controversial attractions of its time. Relive the 1960s. Its legendary score includes five timeless top ten hit songs--Age of Aquarius, Easy to be Hard, Hair, Good Morning Starshine, and Let The Sun Shine In.


-0-0-0-0-0-


OCTOBER 21 - NOVEMBER 7, 2004
A CHORUS LINE

Conceived by Michael Bennett
Music by Marvin Hamlisch
Lyrics by Edward Kleban






A Chorus Line is a celebration of those unsung heroes of the American Musical Theatre-the chorus dancers, those valiant, overdedicated, underpaid, highly trained performers who back up the star or stars and often make them look even more talented than they are. It is also a celebration of the American Musical itself.

A Chorus Line takes the audience through the final grueling audition run by the director, Zach, for a new Broadway musical. He has assembled thirty semi-finalists, but like the reality shows of today, he thins this group down to a final sixteen, and ultimately down to only four boys and four girls for his new musical. Classic Broadway tunes from the show include Dance:Ten; Looks:Three, At the Ballet, The Music and the Mirror, and One.






A Chorus Line appeared at the Shubert Theatre for almost fifteen years, breaking box office records and winning almost every musical theatre award including 9 Tonys, 5 Drama Desk Awards, the Pulitzer Prize for Drama, the New York Drama Critics Circle Award, the Los Angeles Drama Critics Circle Award, the London Evening Standard Award, a special citation Obie Award, and its original cast recording went "Gold".

Not Appropriate for Young Children.







-0-0-0-0-0-







DECEMBER 2 - 19, 2004
SINGIN' IN THE RAIN

Book by Betty Comden and Adolph Green
Music by Nacio Herb Brown Lyrics by Arthur Freed






Singin' in the Rain, the classic MGM musical, is an uproarious spoof of Hollywood in the 1920's, when the talkies were just beginning. The stage version retains all the glamour, romance, comedy, and high-stepping shenanigans brought to life by movie icons Gene Kelly, Debbie Reynolds and Donald O'Connor in the classic original film. And, of course, it has one of the most spectacular scenes ever realized on the stage, the famous Singin' in the Rain number with real rain pouring down on the dancers! The songs are all classics: the famous title tune, Fit as a Fiddle, All I Do Is Dream Of You, Good Morning, Moses Supposes, Make 'Em Laugh--and many more! A marvelous treat for the entire family!

Suitable for all ages.

-0-0-0-0-0-







JANUARY 27 - FEBRUARY 13, 2005
ANYTHING GOES

Book by Guy Bolton, P.G. Wodehouse,
Howard Lindsay and Russel Crouse
Music and Lyrics by Cole Porter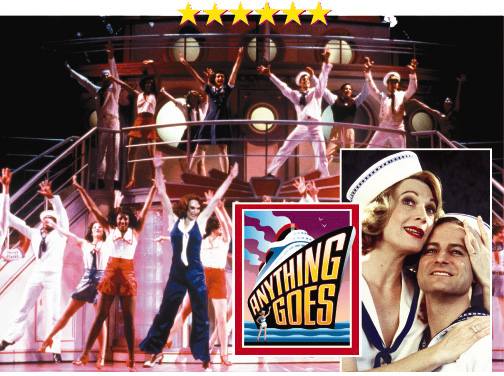 Anything Goes, one of Cole Porter's biggest hits, is famous for making a star of Ethel Merman. This musical is brimming over with hits, including the title song Anything Goes, I Get A Kick Out Of You, You're The Top, All Through The Night, and Blow, Gabriel Blow. Anything Goes puts a group of zany characters--including a former evangelist turned nightclub hostess, a dashing leading man now a stowaway, a bogus reverend who is Public Enemy No. 13, and a daffy upper-crust English nobleman--all on an ocean liner sailing for England. Everything is shipshape as they join the all-singing, all-dancing crew to create riotous mayhem at sea. With this crowd of oddballs, anything can happen--and does happen in Anything Goes! Suitable for All Ages.

-0-0-0-0-0-


MARCH 17 - APRIL 3, 2005
THE KING AND I

Starring Stefanie Powers

Book and lyrics by Oscar Hammerstein II
Music by Richard Rodgers






The King And I, best-loved and most popular of Rodgers and Hammerstein's masterpieces, tells the story of Anna Leonowens, an Englishwoman who is engaged in the 1860s as governess for the many children of the King of Siam. She clashes with the autocratic ruler, whom she regards as a semi-barbarian--but finally grows to love him. Among the favorite numbers are a stylized ballet version of Uncle Tom's Cabin, I Whistle a Happy Tune, the poignant Hello, Young Lovers, Getting To Know You, in which Ann introduces herself to the King's children, the plaintive I Have Dreamed, and the joyous moment when Anna teaches the King the ways of the English ballroom in Shall We Dance? The King And I is one of the greatest classical musicals of all time! Suitable for All Ages.


-0-0-0-0-0-


MAY 5 - 22, 2005
PETER PAN

Music by Moose Chapman and Jule Styne
Lyrics by Carolyn Leigh, Betty Comden and Adolph Green
Book by James M. Barrie

Starring Cathy Rigby as Peter Pan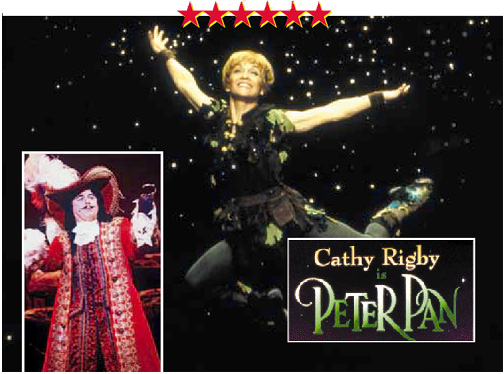 Peter Pan, a timeless musical masterpiece complete with evil Captain Hook, a crafty crocodile and the enchantment of Never Never Land, will touch, inspire, dazzle and charm every generation. Take off with the ever youthful Cathy Rigby and delight in the magic and whimsy of this beloved classic. In her farewell performance, Tony(R) Award-nominee Cathy Rigby takes flight in the 100th Anniversary of this immortal James M. Barrie tale in an all new production bound for Broadway.

Suitable for All Ages.


-0-0-0-0-0-