THEATRE UNDER THE STARS
www.tuts.com


THEATRE UNDER THE STARS
ANNOUNCES ITS 2008 - 2009 SEASON


SEASON INCLUDES:




"OPRAH WINFREY PRESENTS THE COLOR PURPLE"




"IRVING BERLIN'S WHITE CHRISTMAS"




"LEGALLY BLONDE THE MUSICAL"




"LES MISERABLES"




"HAPPY DAYS-A NEW MUSICAL"




"CABARET"


<![if !supportLineBreakNewLine]>
<![endif]>
HOUSTON, TEXAS…Theatre Under The Stars' President and CEO John C. Breckenridge today announced TUTS' 2008-2009 Season extending from September 2008 to June 2009 at the Hobby Center for the Performing Arts. "I am pleased to announce TUTS' 2008-09 Season offers audiences sensational Broadway musicals for the entire family including four Houston premieres and two Broadway classics," said Breckenridge. In its 2008-2009 Season, TUTS combines powerful dramas, delightful comedies and smash-hit new Broadway musicals with beloved classics from the stage and silver screen:

• Featuring a joyous Grammy-nominated score and an unforgettable inspirational story, TUTS presents the First National Tour of Oprah Winfrey's The Color Purple, September 16-28, 2008.

• Celebrate the holidays with TUTS and its own dazzling production of Irving Berlin's White Christmas, December 4-17, 2008.

• From the courtroom to the stage, the hilarious MGM film and now Broadway's new smash hit musical brings its wit and charm to Houston when TUTS presents the First National Tour of Legally Blonde The Musical, February 10-22, 2009.

• Rock 'n' roll with "The Fonz" and the whole gang when TUTS presents the high-spirited Houston Premiere of Happy Days - A New Musical, May 12-24, 2009.

• Travel back in time to the decadent world of 1930s Berlin when TUTS produces the sizzling Tony Award-winning musical masterpiece, Cabaret, June 16-28, 2009.
Subscriptions to the Theatre Under The Stars 2008-2009 Season are available to the public by phone at (713) 558-TUTS, outside the Houston area at (888) 558-3882 or in person at the Theatre Under The Stars Box Office (800 Bagby at Walker). For a full brochure, call Theatre Under The Stars at (713) 558-TUTS. Current subscribers may renew their subscriptions online at www.tuts.com. Discounted group subscriptions of 15 or more are also available by calling (713) 558-8888.

Founded in 1968, Theatre Under The Stars (TUTS) is Houston's acclaimed non-profit musical theatre company and is currently under the direction of President and CEO John C. Breckenridge. Dedicated to producing new works and classic masterpieces, the 2008-2009 "Wow…What A Season" celebrates TUTS' 41th Season of bringing world-class musical theatre to Houston audiences. TUTS was the first theatrical organization in Houston to perform free to the public in 1968 at Miller Outdoor Theatre in Hermann Park, and is the only Houston arts organization that has performed there free to the public every year since the building opened. Since its founding by Frank M. Young, TUTS has produced more than 300 musicals including many local, national and world premieres such as Disney's Beauty and the Beast, as well as International tours including Debbie Reynolds in The Unsinkable Molly Brown, Juliet Prowse in Mame, Robert Goulet in Man of La Mancha, the Tony Award-winning revival of Carousel and the Deaf West Theatre production of Big River. As a way to continue the tradition of musical theatre, TUTS' Humphreys School of Musical Theatre provides instruction and stage experience for more than 1,700 students annually through both The Academy and The Studio, which allow students to flourish in a year-round schedule of classes. Housed in the Hobby Center for the Performing Arts, TUTS also annually presents the Tommy Tune Awards, honoring the best and brightest in Houston's high school musical theatre programs.
<![if !supportLineBreakNewLine]>
<![endif]>
<![if !supportLineBreakNewLine]>
<![endif]>
-0-0-0-0-0-


SEPTEMBER 16 – 28, 2008


OPRAH WINFREY PRESENTS
Houston Premiere
Oprah Winfrey presents

The Color Purple

, a soul-stirring musical based on the classic Pulitzer Prize-winning novel by Alice Walker and the Oscar-nominated film by Steven Spielberg. It is the unforgettable and inspiring story of a woman named Celie, who triumphs over tremendous odds to find joy in life, and her true inner beauty. Nominated for 11 Tony® Awards,

The Color Purple

is a landmark theatrical event. With a joyous Grammy®-nominated score featuring jazz, gospel and blues,

The Color Purple

is capturing the hearts of young and old, and uniting audiences in a celebration of love.

Michael Kuchwara, the Associated Press described The Color Purple as "a Roof-Raising story of triumph." And Richard Corliss of TIME Magazine said, "[it is] a soaring, epic tale. It made a joyful noise in my heart." Elysa Gardner from USA Today raved, "Pure heart! It celebrates the inspiring relationships of faith and love, A Broadway hit!"

As on Broadway, the first North American Tour of The Color Purple is directed by Gary Griffin. The Color Purple features a libretto by Pulitzer Prize-winner Marsha Norman, music and lyrics by Grammy Award®-winning composers/lyricists Brenda Russell, Allee Willis and Stephen Bray, and choreography by Donald Byrd. The original creative team of Tony Award®-winner John Lee Beatty (sets), Paul Tazewell (costumes), Tony Award®-winner Brian MacDevitt (lighting), Jon Weston (sound), Jonathan Tunick (orchestrations) and Kevin Stites (Music Supervisor) was reunited for the tour.
<![if !supportLineBreakNewLine]>
<![endif]> <![if !supportLineBreakNewLine]>
<![endif]>
-0-0-0-0-0-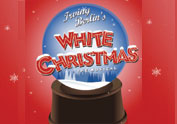 DECEMBER 4 - 17, 2008



IRVING BERLIN'S


Houston Premiere


Have you been dreaming of a white Christmas? Dream no longer when TUTS introduces its own spectacular production of Irving Berlin's White Christmas. The all-time #1 pop song and most-recorded tune in history, White Christmas inspired first a beloved classic film, and now a brand-new old-fashioned musical comedy.


Featuring stunning sets, glittering costumes and a glorious score, TUTS' opulent new production of White Christmas takes audiences to Where the treetops glisten, And children listen, To hear sleigh bells in the snow. As TUTS' holiday offering, the iconic feel-good movie musical, White Christmas is the theatrical extravaganza of the season.


Irving Berlin's composition of White Christmas became the title song for the much-loved 1954 movie, which starred Bing Crosby, Danny Kaye and Rosemary Clooney. Let it snow with show-stopping dance numbers, witty dialogue and classic Berlin songs from the film including "The Best Things Happen While You're Dancing," "Love You Didn't Do Right By Me," "Sisters," "Count Your Blessings," and the iconic song "White Christmas."
<![if !supportLineBreakNewLine]>
<![endif]> <![if !supportLineBreakNewLine]>
<![endif]>

-0-0-0-0-0-


FEBRUARY 10 – 22, 2009

THE MUSICAL

Houston Premiere

It's here, and it's "An Elle of a Show" (TIME Magazine). The hilarious MGM film is Broadway's new smash hit musical, and now the seven-time Tony-nominated musical, Legally Blonde The Musical is coming to you. Legally Blonde follows sorority star Elle Woods, an underestimated blonde who doesn't take "no" for an answer. When her boyfriend dumps her for someone more "serious," Elle puts down the credit card, hits the books, and sets out to go where no Delta Nu has gone before: Harvard Law. Along the way, Elle proves that being true to yourself never goes out of style. After turning Broadway and MTV hot pink, this "Feel-Good Song and Dance Juggernaut" (New York Magazine) is "The Best New Musical Around!" (WOR)
<![if !supportLineBreakNewLine]>
<![endif]> <![if !supportLineBreakNewLine]>
<![endif]>
<![if !supportLineBreakNewLine]> <![endif]>-0-0-0-0-0-

MARCH 24 - APRIL 5, 2009

LES MISERABLES
Broadway Classic

Adapted from the classic Victor Hugo novel, the musical theatre phenomenon Les Misérables has a score by Alain Boublil and Claude-Michel Schönberg (Miss Saigon), with lyrics by Herbert Kretzmer. One of the world's best-loved musicals, it is the longest running musical in London's West End, and arguably the longest continuously-running musical in the world. This immensely popular entertainment has been seen by over 53 million people worldwide in 38 countries and been performed in 21 languages. There are over 35 recordings of the score, again in several languages. Following the life of the fugitive Jean Valjean, his foster daughter Cosette, and his relentless pursuer Javert against a backdrop of the French Revolution, Les Misérables reminds us that we are each part of the same human family---that whatever our outward differences may be, our longings for individual liberty and peace are the same.
<![if !supportLineBreakNewLine]>
<![endif]>
-0-0-0-0-0-


Photo courtesy of www.andyfilm.com
MAY 12th through the 24th, 2009
A NEW MUSICAL

Houston Premiere

Goodbye gray skies, hello blue! Happy days are here again with Richie, Potsie, Ralph Malph and the unforgettable "king of cool" Arthur "The Fonz" Fonzarelli. With a book by the legendary Garry Marshall and featuring music and lyrics by Oscar-winning composer Paul Williams, Happy Days – A New Musical brings the beloved television sitcom to the stage with exhilarating rock 'n' roll tunes and riotous laughter.

It's a blast from the past! With sensational choreography, unforgettable tunes and featuring everyone's favorite gang, Happy Days – A New Musical sends audiences of all ages to one rockin' sock-hop – you'll never forget!

Based on the hit Paramount Pictures' television series, Happy Days – A New Musical reintroduces one of America's best loved families, the Cunninghams, and the days of 1959 Milwaukee complete with varsity sweaters, hula hoops, and jukebox sock-hoppin'.
<![if !supportLineBreakNewLine]>
<![endif]> <![if !supportLineBreakNewLine]>
<![endif]>
-0-0-0-0-0-


Photo courtesy of www.jblog.com
JUNE 16 - 28, 2009
Broadway Classic


Life is disappointing? Forget it! In here, life is beautiful. The girls are beautiful. Even the orchestra is beautiful! Live from the Kit Kat Klub, the decadent world of 1930s Berlin comes to life on stage when TUTS produces a new production of the Tony Award-winning musical masterpiece Cabaret. Featuring music and lyrics by Broadway's multi-award winning composers John Kander and Fred Ebb, the landmark musical Cabaret sizzles with thrilling songs including "Don't Tell Mama," "Willkommen," and the title song "Cabaret."

An English nightclub singer, an American writer, a German landlady and a Jewish shopkeeper find their destinies linked and their futures uncertain as the Nazis struggle to overthrow Germany.

Directed by Bob Fosse, the 1973 film starring Liza Minnelli and Joel Grey took home eight Academy Awards and two Oscars including Best Picture.

For all of Theatre Under The Stars' 2008-2009 shows, air transportation is provided by Continental Airlines, the official airline of Theatre Under The Stars. Additional support is provided by Spectra Energy and St. Luke's Episcopal Health System, the Official Healthcare Partner of Theatre Under The Stars. Media sponsors include ABC-13 and Houston Chronicle. Season support is funded in part by grants from the City of Houston through the Theater District Association and the Texas Commission on the Arts.<![if !supportLineBreakNewLine]>
<![endif]>

-0-0-0-0-0-