THEATRE UNDER THE STARS

PRESENTS


THEATRE UNDER THE STARS ANNOUNCES

THE 2016 - 2017 Main Stage SEASON:

Season to Include: "How to Succeed in Business Without Really Trying," "An American in Paris," AND THE 2015 TONY AWARD® WINNER FOR BEST MUSICAL

"FUN HOME"

2016/17 Season Sponsored by Children's Memorial Hermann Hospital

TUTS' 2016 - 2017 SEASON




June 14, 2016 (HOUSTON) – Theatre Under The Stars (TUTS) announced a new line up for its 2016-17 Season today.

Part of Theatre Under The Stars' ongoing mission is to constantly listen to audiences and learn more about their desires in an effort to provide better entertainment and educational experiences for our community and customers. Our goal is to deliver more of what audiences want and serve a broader cross-section of the Greater Houston community with our education and engagement programs.

TUTS is proud to call the Hobby Center for Performing Arts our home, and recognize our unique position as the only company in Houston that both presents National Tours of Broadway productions, and also self-producing Regional renditions of beloved musicals.

While most people are familiar with the TUTS Main Stage productions, it is our hope to increase awareness of the organization's deeper roots in community engagement and educational offerings. From our Musicals for Young Audiences program and the Humphreys School of Musical Theatre, to our professional performances we provide high quality theatrical experiences for people of all ages and backgrounds. TUTS is also proud to cultivate a greater appreciation for excellence in musical theatre, and foster the emerging generations of audiences and performers alike.

In celebrating the rich history of Theatre Under The Stars and looking toward our upcoming 50th anniversary in 2018, we look back on who we've been, but more importantly we're looking ahead to who we want to be -- a relevant and vital contributor to the arts and cultural scene in Houston and beyond.

Perhaps most influential in this transition has been the addition of Sheldon Epps as our new Artistic Advisor.

Based on his advice and guidance, TUTS now promises to provide "more theatre for more people" by offering a greater variety of world-class musical theatre titles. It is important to seize the opportunity in this period of evolution to grow and expand. In an effort to reflect the growing landscape of the Houston community, TUTS will now present a more broadly diverse lineup of material. We believe it is crucial to show a full spectrum of theatrical experiences that engage, inspire, and entertain at the highest level of musical theatre artistry.

"One of my first desires when I arrived to work with TUTS was to examine the programming for the 16-17 Season. While there was much to admire, I also felt that there were areas where the choices could be bettered to create a more dynamic, vibrant and diverse season - one that reflected the stated noble initiatives and aims of the company. I am pleased to say that the new choices we have made fully accomplish that goal. I believe that this revised season will bring a greater breadth of theatricality to our audiences. It will also offer the work of some of the true masters of the musical theatre field from the august Stephen Sondheim to the currently justly celebrated Lin-Manuel Miranda, creator ofHamilton, which is perhaps the greatest theatrical juggernaut of our time. Further, this season fully addresses the desire at TUTS to reflect the richness and diversity of the Houston community, and indeed of our country. All in all a combination of elements which I believe will create a "better than ever" season for TUTS which will be justly supported and celebrated," said Epps.

We are thrilled to announce a re-vamped and re-energized 2016/17 Season:

-0-0-0-0-0-
IN THE HEIGHTS

September 13 – 25, 2016
In the Heights, the first offering from Lin-Manuel Miranda, the genius behind the game-changing Hamilton: An American Musical, won five Tony Awards® including Best Musical in 2008. In the Heights is a vibrant snapshot of three days in an eclectic Manhattan neighborhood as the residents face the changes and challenges of a world that is on the move. Powered by the sounds of summer and the rhythm of the streets, In the Heights features words and lyrics by Lin-Manuel Miranda and book by Quiara Alegria Hudes.
-0-0-0-0-0-
-0-0-0-0-0-

How to Succeed in Business Without Really Trying

October 25 - November 6, 2016
How to Succeed in Business Without Really Trying is not just the name of a smash musical but also the book (based on a real book by Shepherd Mead) that inspired window-washer J. Pierrepont Finch's meteoric ascent up the corporate ladder of the World Wide Wicket Company. Known as 'Ponty' to his friends, this enterprising young man schemes and charms his way to the top in an office teeming with characters straight out of a 1960's romp. This Tony Award® winning musical's snappy tunes and witty repartee were penned by Frank Loesser, with book by Abe Burrows, Jack Weinstock and Willie Gilbert.
-0-0-0-0-0-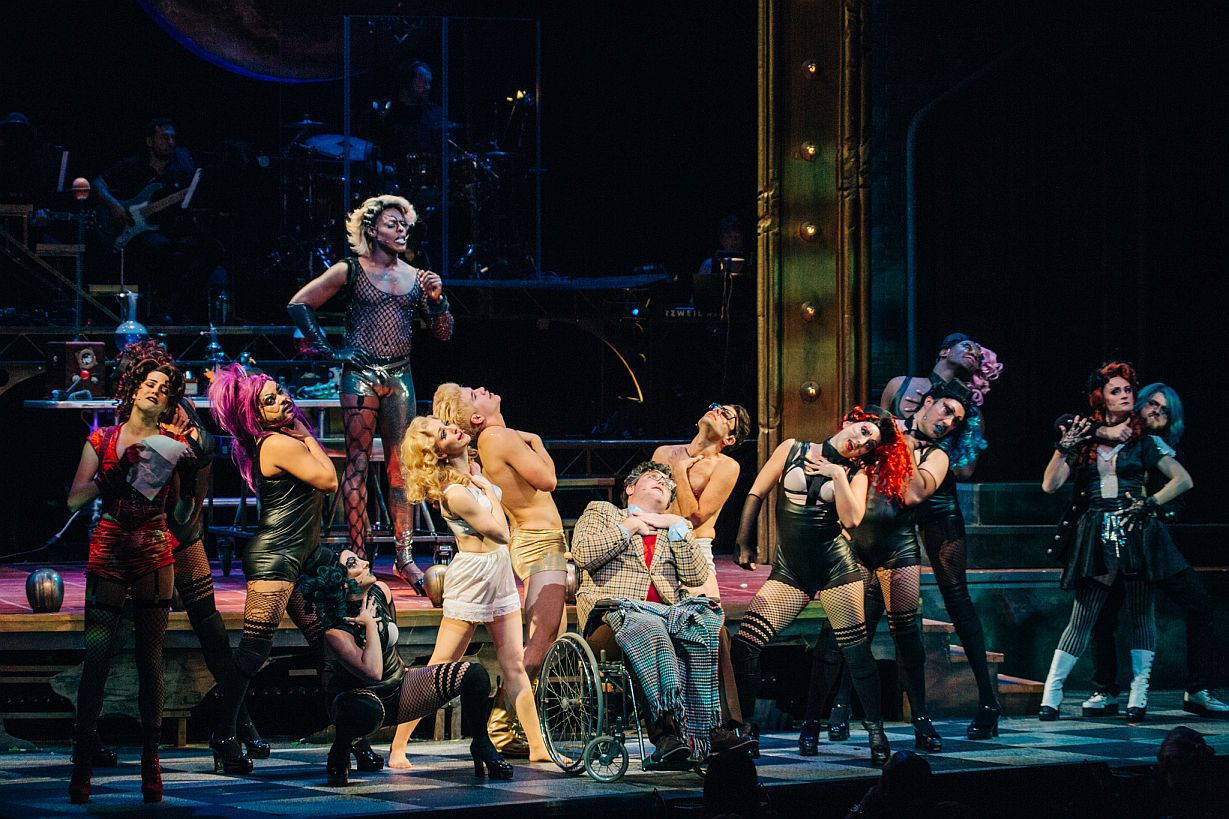 November 8 - 20, 2016
Follow Brad and Janet on a dark and stormy night into the world of Frank-N-Furter. Join the cast of creepy, colorful characters as they aid the master with his favorite obsession, his greatest creation the musclebound Rocky himself.
-0-0-0-0-0-
December 6 – 18, 2016
Into the Woods - Anything can happen in the woods! Winner of five Tony Awards®, this enchanting tale, created by Stephen Sondheim and book by James Lapine, is a complex, courageous journey through a forest of calamity, cleverness and gorgeous songs. The whole family will be delighted as they follow Cinderella, a Baker and his Wife, Jack (of 'beanstalk' fame), Little Red Riding Hood, Rapunzel, a Witch and a couple of Princes and a host of fairy tale companions as they journey into the woods and face wolves, giants, and what really happens when your wishes come true!
-0-0-0-0-0-
An American in Paris
February 21 – March 5, 2017
An American in Paris is the new Tony Award®-winning musical about an American soldier, a mysterious French girl and an indomitable European city, each yearning for a new beginning in the aftermath of war. Acclaimed director/choreographer and 2015 Tony Award® winner Christopher Wheeldon brings the magic and romance of Paris into perfect harmony with unforgettable songs from George and Ira Gershwin in the show that earned more awards than any other musical in the 2014-15 season!
-0-0-0-0-0-
Dreamgirls
April 4 – 16, 2017
Dreamgirls is a love letter to a time when the music of Motown reigned supreme. Winner of seven Tony Awards® and two Grammys® for Best Cast Album and Best Female R&B Vocal Performance, Dreamgirls tells the story of the Dreams first break to their tumultuous climb to top of the charts. Follow this female trio's journey, both behind the scenes and onstage, through the changing musical and cultural climate of the 1960's and 70's; they girls overcome cutthroat business deals and unscrupulous managers only to discover that fame can't replace family. Full of powerhouse ballads and soulful tunes, Dreamgirls has a book and lyrics by Tom Eyen and music by Harvey Krieger.
.
-0-0-0-0-0-
2015 Tony Award® Winner
Best Musical
May 16 – 28, 2017
Every once in a while a Broadway musical comes along that surprises, moves and excites audiences in ways only a truly landmark musical can. The "groundbreaking," "uplifting" and "exquisite" new musical Fun Home was the event of the Broadway season, receiving raves from critics and audiences alike, winning five 2015 Tony Awards including Best Musical, and making history along the way. Based on Alison Bechdel's best-selling graphic memoir, Fun Home introduces us to Alison at three different ages, as she explores and unravels the many mysteries of her childhood. A refreshingly honest musical about seeing your parents through grown-up eyes, "Fun Home is extraordinary, a rare beauty that pumps fresh air into Broadway." (New York Times)

<![if !supportLineBreakNewLine]>
<![endif]>
-0-0-0-0-0-
How To Subscribe
Subscriptions to TUTS' 2016/17 mainstage season start at $184, and are available:
· Online at TUTS.com
· Phone at (713) 558-TUTS
· In person at the TUTS Box Office (800 Bagby St. – Downtown Houston)
· Discounted group subscriptions of 15 or more are available at (713) 558-8888 or via email at groupsales@tuts.com
VIP Subscribers – How to Access the Best Seats
Join TUTS as a Star Patron, Stage Door Circle Member or Founder's Club Member. VIP subscribers enjoy exclusive benefits from intimate cast talk-backs and exclusive events with show partners to backstage tours and more! Visit TUTS.com/clubs to learn more about benefits at each level.
TUTS' 2016/17 season is generously sponsored by Children's Memorial Hermann Hospital. For all shows, air transportation is provided by United Airlines, the official airline of TUTS. Media sponsors include ABC-13 and Houston Chronicle. Season support is funded in part by grants from the City of Houston through the Theater District Association, the National Endowment for the Arts, and the Texas Commission on the Arts.
For more information visit TUTS.com.
Theatre Under The Stars
800 Bagby Street
Houston, TX, 77002
The Hobby Center for the Performing Arts