THEATRE UNDER THE STARS
WWW.TUTS.COM
1998 - 99 Season

TUTS FIVE-SHOW SUBSCRIPTION
TO LIGHT



THE SCARLET PIMPERNEL



THE ARENA THEATRE AND THE WORTHAM STAGE IN 1999

===============================================




GUYS AND DOLLS



GUYS AND DOLLS
Arena Theatre
April 6th - 18th, 1999
at the Wortham Center
A Runyon Classic


Guys And Dolls, the romantic comedy that finds charming gambler guy Sky Masterson falling for Salvation Army doll Sarah Brown, becomes the first of two 1999 "Summer Musicals at the Wortham." Based on a Damon Runyon short story adapted for the stage by Jo Swerling and Abe Burrows, Guys And Dolls is filled with loveable street-wise gamblers, saucy nightclub cuties and noble, determined soul-savers. The show's solid gold score, with both music and lyrics by the great Broadway composer Frank Loesser, boasts such show-stopping classics as "Luck Be A Lady Tonight,", "A Bushel And A Peck," "Take Back Your Mink" and "Sit Down, You're Rockin' The Boat."




===============================================



Theatre Under the Stars' "JESUS CHRIST SUPERSTAR" Coming in July, 1999.





JESUS CHRIST SUPERSTAR




July 6th - 18th, 1999
Brown Theater at the Wortham Center
TUTS Acclaimed Production to Return
By Composer Andrew Lloyd Webber and Lyricist Tim Rice
To Cap TUTS' 1999 stand at The Wortham

Jesus Christ Superstar, the exultant rock opera by composer Andrew Lloyd-Webber and lyricist Tim Rice, returns to cap TUTS' 1999 stand at the Wortham. Celebrating the last seven days in the life of Christ, this production has been praised by audiences and critics alike for its uniquely reverent and pageant-like presentation. TUTS' spectacular mounting of this initially-controversial musical was a critical and box office triumph at the Music Hall in 1989 and again in 1990 when it launched an extended West Coast tour to Seattle, Sacramento, San Jose, Long Beach, San Diego and Anchorage, Alaska.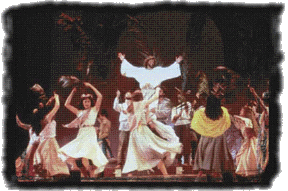 ===============================================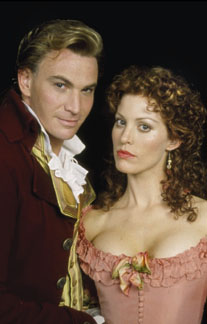 The hero romances a passionate beauty
THE SCARLET PIMPERNEL
August 10th - 22nd, 1999
At The Brown Theater at the Wortham Center
Feature Presentation
Music by Frank Wildhorn, Book and Lyrics by Nan Knighton
Based on the novel "The Scarlet Pimpernel" by Baroness Orczy
Direct from Broadway, this high-adventure musical is based upon the classic myth of secret identity heroes. Framed by an Exquisite 18th century setting, a seemingly foppish British aristocrat takes on the identity of a mysterious hero who outwits French Revolutionaries, rescues fellow countrymen and romances a brave and passionate beauty. A rousing score by Frank Wildhorn (composer of Jekyll & Hyde) and inspiring lyrics by Nan Knighton drive the message that we all have heroism lodged deep within. Prepare to be swept away by the wildly emotional story, swashbuckling action and breathtaking beauty of The Scarlet Pimpernel.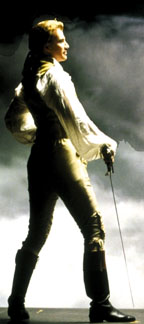 ===============================================

GRAND HOTEL
October 12 - 24, 1999

At The Arena Theatre in Southwest Houston
TUTS Debut In-The-Round


With a cacophony of telephones, desk bells, switchboard operators, bellhops paging guests and managers giving orders, the 1989 Tony-winning Grand Hotel swirls to life in the intimate, in-the-round setting of the Arena Theatre. Against a colorful tapestry of fast-moving bellhops and chambermaids, the lives of a ballerina, a bookkeeper, a typist, a businessman, and a handsome baron collide and interweave in Berlin's Grand Hotel, "where the music never stops." Set to the 1920s tempos of foxtrot and charleston, musical numbers from Grand Hotel include "Maybe My Baby Loves Me," "Who Couldn't Dance With You?," "Love Can't Happen," "We'll Take a Glass Together" and "Bonjour Amour."

===============================================

SCROOGE
December 7 - 19, 1999

At The Arena Theatre in Southwest Houston
A Jazzed-Up Dickensian Holiday Treat!!!


SCROOGE - playwright Jim Bernhard and composer Mark Holden's rollicking, jazzed-up version of Charles Dicken's A Christmas Carol -- revives TUTS' long tradition of family holiday fare. Set in-the-round at the Arena Theatre, this delightful and thought-provoking holiday romp features a jive-talking, jitterbugging Ghost of Christmas who takes mizer Ebinezer Scrooge on a heart-changing tour of Christmases past, present and future. Add to this, dazzling special effects including tap-dancing glow-in-the-dark skeletons, flying effects and a glittering toyland dream sequence in which dolls, animals and even Christmas stockings come to life!!!