WHATEVER SHE WANTS - The Stage Play
Who Said It's Only A Man's World!
Synopsis
<![if !supportLineBreakNewLine]>
<![endif]>
Can the Perfect woman find the Perfect man?
Vivian Wolf (Vivica A. Fox) has suffered one heartbreak too many and has no room left for unfulfilling relationships. Now she has come up with the solution to every woman's problem, a private club called "Whatever She Wants" where men have to qualify to get in. No baby daddies, no bad credit, no car, no pot bellies, and no living with your mama will get you NO ENTRY. To be in the presence of these women you have to be able to give them whatever they need.
It is the grand opening and Vivian is as grand as she can be. She has it all except her own man. And for her traditional and powerfully wealthy father, Theodore Wolf (Richard Roundtree), this is unacceptable. In town to celebrate Vivian's fortieth birthday, Theodore discovers his financial contribution to Vivian's business ventures has turned into a social club for dating. He doesn't agree with her elitist approach to relationships. This isn't what he expected from his oldest daughter. Her time is running out and so is his patience. She has embarrassed him and the family's name and now he demands change. The only problem is… These two wolves ain't afraid to howl. Question is…
Which one will be the first to bite?

Meanwhile, Tracy Jamison (Tamala Jones), Vivian's more reformed younger sister and her hubby Carlos, have sought refuge in Vivian's home. Tracy and Carlos have fallen on hard times and for Vivian this is all the proof she needs as to why her "Whatever She Wants" social club will prevent her from struggling through a pointless marriage. She wants happiness without the fight, so she instead fights with Tracy and her husband. She ridicules Carlos for putting his dreams before his wife and convinces Tracy she doesn't have to suffer with a minimum wage brother. Enough is enough. Carlos wants to get away from it all and demands Tracy decide if she's married to him or to her sister. Not sure what to do, Tracy ventures out and finds herself in the arms of another man who promises to give her "Whatever She Wants". But she's not the only one making a love connection.

The close hearted Vivian who has yet to find the man she wants finally meets her match. Even the men who pass her prescreening qualification detector and are allowed into her club are not into her heart. That is until Julian Heaven (Boris Kodjoe) breaks it in. Julian is every woman's fantasy. He's stunning, sexy, charming, and legit. He catches Vivian hook, line and sinker and it doesn't take much to reel her in. But this fish might not make it to the frying pan as things start to heat up in the kitchen. It all boils over when Vivian's joy ride with Julian comes to a crashing end. Vivian's fantasy world crumbles into the harsh reality that whatever she wants just might not be what she gets.

Witness the power, laughter, strength and honesty as Vivian searches for the perfect man who just may not come in the perfect box. Whatever She Wants is the story about one woman's determination to rediscover who she really is…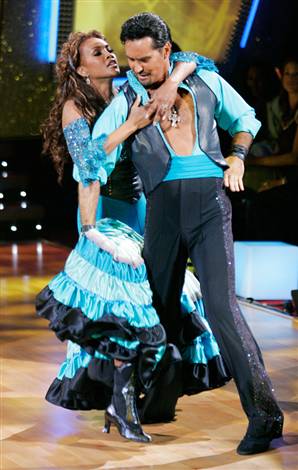 TV and Film Superstar Vivica A. Fox Stars in I'm Ready Productions' WHATEVER SHE WANTS Showing from May 1st - 6th, 2007 at the Verizon Wireless Theater at 520 Texas Avenue, Houston, Texas 77002. Tickets may be purchased by calling the Verizon Wireless Box Office (713) 230-1600 or online at www.ticketmaster.com. Ms. Fox is pictured here in the most popular TV show Dancing With The Stars with her dancing partner.