Theatre Under the Stars
Frank M. Young, President / CEO
John C. Breckenridge, Producer

Presents

RICHARD WHITE

in

ZORRO
The Musical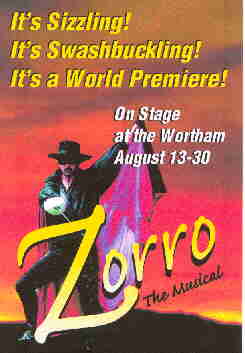 Book by Jim Bernhard and Frank M. Young
Original Lyrics by Jim Bernhard and Randy Rogel
Original Music by Randy Rogel

STARRING

Susan Powell......................................................Margarita
Carol Swarbrick..................................................Dona Elena, the Governor's wife
Lillian Graff.........................................................Wilma Winfrey
Alberto Stevans.................................................Capitan Ramon de la Guerra
Jack Rischel........................................................Don Carlos Pulido
Michael Cousins................................................Miguel
Rosalia Villard.....................................................Carlotta
Peter Bryson.......................................................Alvarado
Jason Douglas....................................................General Santa Anna
Don Gardner........................................................Don Antonio de los Reyes, the Governor
Ira Hawkins..........................................................Redbeard, the pirate chief
Randy Rogel.........................................................Willard

Fight Direction by Brian Byrnes
Musical Staging by Michael Tapley
Directed by Frank M. Young

----------------------------------------------------------------------------------------------

Frank M. Young

Interview with Frank M. Young
Co-Author, Director Frank Young is TUTS Founder, President, C.E.O.

by Theresa Hyde
Theresa@houstontheatre.com
August 19, 1998

Since producing, directing, and conducting TUTS' first production in 1968 has guided Houston's non-profit musical theatre company to national acclaim through 30 seasons of over 180 musicals. For TUTS Young has mounted international tours including the 1991 world premeire of the Kopit / Yeston Phantom, which has since had more than 200 productions worldwide and an RCA Original Cast album. In 1992 Young served as lead producer of a five-city tour of Annie Warbucks prior to its New York run. His 1993 production of Sayonara, mounted in association with Seattle's 5th Avenue Musical Theatre where he serves as Executive Director, toured in 1994. His other tours include Jesus Christ Superstar, Juliet Prowse in Mame, Debbie Reynolds in The Unsinkable Molly Brown, Robert Goulet in Camelot, Linda Eder in Jekyll & Hyde and the Tony-winning Carousel. The 1993 premiere on TUTS' stage of Disney's Beauty and the Beast broke all national box office records. In all, Young has written, produced, directed, choreographed and / or conducted many of America's greatest musicals including 28 Houston premieres.

In recognition of Young's 30 years of leadership in musical theatre, he has received commendations from President George Bush, Texas Governor Ann Richards, five Houston mayors, and the mayor of Seattle. The combined operations of TUTS and the 5th Avenue constitute the largest non-profit musical theatre producing organization in America with a base of 65,000 subscribers from eight states and Canada. Young is the founder and the first president of the National Alliance for Musical Theatre (85 producers in the U.S. and Canada), which honored him in 1990 as Producer of the Year. Young also established musical theatre internship programs at the University of Texas and University of Houston. Listed in the "International Who's Who in Music," he was the first recipient of Houston's Business Volunteers for the Arts "Leadership in the Arts" Award, named by TheaterWeek oen of 1994 and 1995's "100 Most Powerful People in the Theatre," and received 1995's Downtown Houston Association "Heart of the City" award, the 1996 Cultural Leadership Award from the Galleria Chamber of Commerce and 1997 honors from the Woodlands Living Arts Council and the Warner / Bravo Cable Network. Other professional affiliations include the National Institute for Music Theatre, Texas Non-Profit Theatre Association, Cultural Arts Council of Houston / Harris County, Houston Theatre Alliance, Business Volunteers for the Arts and Texas Commission on the Arts' Theatre Panel, of which he is past chairman.

Theresa: Gosh, I don't know where to start. Your accomplishments are so vast.......I guess my first question is: How do you get to be who you are? How do you get to make phonecalls to people and make it happen? You're amazing, you're the biggest producer in Houston and you put on these glorious shows. And you think of all the problems that could possibly happen backstage, but then you make it happen. You are, essentially, the Create-or (laughs). You make it all happen, and you make it all work and it all looks gorgeous onstage!

Frank: Well, I'm also the one that gets blamed when for some reason, it doesn't look gorgeous (laughs). We're all human and once in awhile, you'd wish life could be a little more gorgeous. But you know, I'm from Houston. I'm born and raised here and lived here all my life. And the reason that these things are possible in Houston is because we are Southerners and Texans and we have a Can-Do Attitude. Growing up here, I learned early in life that there's nothing you can't set your sites on and make happen. And I think I just never outgrew that, even when it comes to Showbusiness.

Because I get all excited about Robert Goulet in Camelot, or now we have The World Premiere of Zorro, The Musical and when I decide to do a project like that, I am so passionate and so infectious in my excitement that I am able to communicate that to our Board of Directors, The Foundations, The Corporations like Continental Airlines that underwrite what we do. So, I think anybody with vision, if you really have great passion, you can make it realize to make it happen onstage, in my case.

Theresa: Tell us a little bit about your background. How did you get started in Theatre?
Frank: I started in 1958 dancing in Carmen when they were performing in the Music Hall, that's before the Jones Hall was built. And over the years, I sang in the chorus, I sang little walk-on parts. I ended up doing backstage conducting. I just sorta learned on the job.

After I finished college, I was offered a job just for the summer with the Houston Grand Opera, and next thing I knew......'cause I was gonna be a doctor. I had no intentions. I had all these musical talents because my family had exposed me to all of that. But I was gonna be a doctor and I was in between........

Theresa: This is here in Houston?
Frank: In Houston, I was going to graduate school at the University of Houston and working for the Houston Grand Opera. Next thing I know, suddenly here I am 35, 40 years later running Theatre Under The Stars.

Theresa: Now, how do you get from being a pre-med student (laughs) to get into Theatre, of all places.......
Frank: (laughs) Well, it's interesting. When I worked for the Opera Company, in 1968, The Miller Theatre in Hermann Park was being built. And when I found out that there would be a real live theatre out there, I went to the head of the Opera Company and I said, "Oh, we don't do anything in the summer, let's do free summer Opera."
Theresa: Now, this was during pre-med?
Frank: Yes, this was when I was doing pre-med. I was actually working part time at Baylor in the Research Department. Bottom line is, the Houston Grand Opera said, "Oh Frank, our schedule's too busy, we lose enough money doing Opera in the Hall.........."

Theresa: And you wanted to do a free show (laughs).......
Frank: They said, "Why don't you go out there and do a free Opera?" Well, we did a free musical, it was called Bells Are Ringing......

Theresa: And you were the producer.......
Frank: Yes, I produced it, I directed it, and I conducted the orchestra. And we only had enough money to do one performance. One night of Bells Are Ringing, that we rehearsed, probably for six weeks. It's a wonderful Broadway show from the fifties called Bells Are Ringing by Julie Stein, a lot of great songs in there. It was an enormous Hit, and from one free night in the Park, where our budget was $4000 for that whole show. We had 4500 people show up.

Theresa: How many people were in the show?
Frank: I had about 60 people in the show, nobody was paid then. Everybody was free and volunteered. The music critic at the Houston Post that reviewed that said, "I've never heard a Broadway Musical sung like that. I think I just saw that chorus at the Houston Grand Opera." 'Cause I recruited all of my friends from the Opera Company to do this Broadway Musical.

Theresa: And you found people to work with you, to do the lights, to do everything.......
Frank: Everybody was so excited about a big Musical Theatre.
Theresa: You were contagious.........
Frank: I guess. You know the Musical Comedy, The Music Man? Where Harold Hill comes to town, I sorta think I'm a Harold Hill.
Theresa: That was in pre-med and then, you decided to drop out......
Frank: I did, I dropped out and I just pursued this. I was working full time for the Houston Grand Opera. I was there for 13 years and finally had to make a decision, Theatre Under The Stars grew so big. And then I couldn't do both, and I was really nervous about giving up the security and my love of music to leave the Houston Grand Opera 'cause you never know in the Theatre World. But I made the right choice.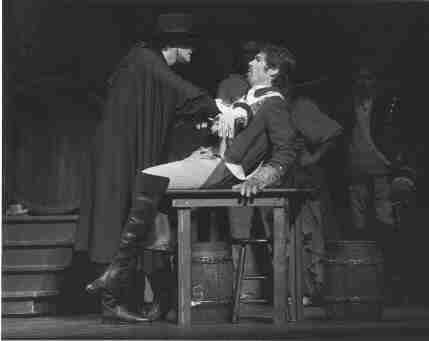 Richard White as Zorro and Alberto Stevans as Capitan Ramon dela Guerra in Zorro, the Musical. Theatre Under the Stars' swashbuckling hommage to the operettas of old plays through August 30 at the Brown Theater / Wortham Center. Photo by Craig H. Hartley


Theresa: Now, did you decide to go backstage and felt that it was better doing behind the scenes work as a producer and director?
Frank: Well, I think one grows to different levels in the Arts. When I started as a performer, I thought I was gonna die if I didn't get to be on the Broadway stage. And to go to the theatre 8 times a week and put on make-up and entertain people, I thought, was fabulous. And as I grew older, I said why would anybody wanna come and do the same show 8 times a week? That's when it became a little more glamorous and exciting to direct and conduct. And, I think the ultimate real satisfaction is to be a producer. Because then you get to do what you want to do, and not what some other person in your company chooses to show, or chooses to staff, or chooses to star. If you're the producer, you could put your own stamp on it. Hopefully, most of the time, what we do has a lovely stamp of approval.

Theresa: Have you ever actually produced or directed a play that's not a musical? The first one you've ever done was a musical, and then, you went on from there?
Frank: That's right. I never directed anything but musicals. In college, of course, when you take drama classes, you have to direct some plays, but never professionally where somebody pays me a fee.

Theresa: Why is that?
Frank: I don't go to the theatre very often to see straight plays. I really am from the musical world, for 35 years, I was an actor, a singer and a dancer, but I did Musicals and Opera. When I'm in New York, I'll see some plays, if it's a really hot play. And I love farces, I love to go to the Alley and see Noises Off. But for me to sit through Shakespeare is quite a chore (laughs). I wanna be entertained and I wanna hear gorgeous music sung by gorgeous voices.

Theresa: Do you play any musical instruments?
Frank: I play the piano, play the saxophone, play the clarinet, and I play the drums.

Theresa: Is there anyone in your family that's musically inclined?
Frank: No, no. No one in my family ever was inclined in the Arts.

Theresa: (laughs) That's amazing!
Frank: And actually, I'm from Pasadena, and I remember as a child in the Pasadena Independent School District, they would bus us in to the Houston Symphony. I remember the dollar concerts as a child. And I know we paid that dollar to get out of school for the morning. I don't think I'd have it go to the Symphony at all, but it exposes young people. And that's why at TUTS, we have student performances where we bring in 3,000 children to see Musicals in the morning. It opens the door, it certainly opened the door for me.

Theresa: In Zorro, you are the co-author and the director. Were you a director before you actually became a producer?
Frank: That's right. I started out in Houston Musicals as a dancer and a singer and an actor with Tommy Tune and Jacklyn Smith and a lot of people that went on to big careers. And over the years, I have learned all the different skills. I also direct, I choreograph some of our shows, I conduct the orchestra frequently on our shows. So I'm sort of dangerous, I'm one of those that knows a little bit about a lot of things. Jack of All Trades and Master of None. But, as I grew older I realized that you put all those elements in a Broadway Musical together and that's what a producer does.

Theresa: When you prioritize your task, and you have this huge project to do, what would be your first priority?
Frank: Oh my goodness. Every area is a high priority. Who's writing a new show, you wanna have the best writers, who's composing. You wanna know that you have the best actors available so you have to plan way ahead. In the case of Zorro, we've hired eight principals, starring parts from all over the country that have played leading roles in Theatre Under The Stars over the last ten years. So, they're known to our audiences and they're known to me that they're really first class.

Then you've got scenery designers, lighting designers, choice of a conductor, a choreographer, all of those things. There's no one department that's any more important. And what's interesting, I know of no other Art Form, except for The Grand Opera that is as collaborative. There's so many different elements. When you do a play, it's one writer and a group of actors that don't have to sing or dance. When you do a musical, you got a lyricist, a book writer, a composer, a choreographer, all of those things.

Theresa: What's the hardest part?
Frank: The hardest part is the amount of time. You have to be so well organized, and so planned, so that when you bring all of these people together, to do it in rehearsals and put it on the stage, you don't have 6 months. Like a Broadway show might have six months. Disney did Beauty and the Beast here, they had 6 months to get it ready from New York. We had about three weeks of actual rehearsals when everything came together. So, the lack of time is the biggest concern of anyone in the theatre.

Theresa: A very limited amount of time for preparation, and you have to make it come out as if you've been doing it for several months......
Frank: People have seen Zorro and say that it's the most lavish thing they've ever seen at The Wortham, and we must have been planning for months. Well, we have been planning for months but what they meant was rehearsing, and doing the technical end of it.

Theresa: Does that mean you have to have more people working with you? To be able to accomplish this task in such a small amount of time?
Frank: Yes. Every department has its own staff. If you see Zorro, there's a hundred and forty people that are back there making it run. Pyrotechnics, we have a a lot of fireworks and explosions. We have horses and donkeys and we have 40-some actors, and 40 stage hands. It's just amazing. Now when you sit in the audience, you just see maybe 40 people on the stage. You don't know there's another hundred back there pushing buttons and pushing scenery around to make it all happen.

Theresa: So, I guess you just don't have one priority, you actually have several at one time.........
Frank: Yes, the producer does. He's gotta have somebody in charge of each little section. Somebody in charge of the Music department. Somebody in charge of the Dance department. Somebody in charge of the Scenery......

Theresa: And you're still very much involved, hands-on, with everything.........
Frank: Absolutely. And now I'm wearing the other hat of the Director. We rehearsed 10 hours a day with no days off, for two or three weeks. And that means, I'm really and honestly doing too many things. But this is one project I absolutely wanted to direct, 'cause I've been so excited about this one.



Susan Powell as Margarita and Richard White as Zorro in Zorro, the Musical. Theatre Under the Stars' swashbuckling hommage to the operettas of old plays through August 30 at the Brown Theater / Wortham Center. Photo by Craig H. Hartley



Theresa: Why did you choose to direct this Musical?
Frank: I wanted to do Zorro, because it is really a Comedy. People come to see this thinking that it's gonna be swordfighting and whipcracking and swashbuckling and there is all of that. But, it's a Farce, it's a Comedy. People are screaming with laughter, so it's different from any other Zorro that you've seen in the movies or TV. And once we had this concept, I knew that I wanted to be the Director to realize what was in my head, what we're dreaming of.

Theresa: And you also picked the Music.......
Frank: Yes. My background before the Theatre, was the Opera world. I was with the Houston Grand Opera for about 13 years, and I conducted there and did all kinds of things. I've been looking for a subject matter that's Classical, that's old, Zorro's set in 1830's that we can take actual music from that era. We have music by Tchaikovsky, by Puccini, by Wagner. So, you're gonna hear great musical themes, but done in a musical comedy. It's kind of a juxtaposition of musical themes in a roaring comedy.

Theresa: At what point in the production do you get to ask a Robert Goulet, or a Barry Williams, or a Gavin McLeod or a Julie Andrews to star in your show.......
Frank: If you're doing Barry Williams, who starred in Victor Victoria, or Robert Goulet in Camelot. If you're doing a show that already exists, they have either seen it and you can send them the script and say this is the part, would you be interested? When you're doing a new show, and you can't go down and rent the movie and see what it is. The first thing is, you have to send them the material, so they can say just because I think they're right for a part doesn't mean that they think they're right for the part. And once we've decided they're gonna do it then we have to find out which key we've written these songs. Do they sing it in the key of A, or the key of C? Also, we have to re-orchestrate according to each of these actors needs. Some actors have told me on Zorro, "This music's sort of operatic in scale, and I don't have that kind of voice, Frank. But keep me in mind for something else."

So once you know what the material is, then you're ready to communicate that. And then of course, the second question is, "What does it pay, Frank?" (laughs).

Interestingly, in the show Zorro that we have running at The Wortham Downtown, all of those parts were written for the actors that are actually playing them onstage. So this is very unique. We didn't write Zorro and then go out and hold auditions. We wrote all of these parts around the stars, the principal players that play these parts. So I sorta had them till the last year or so, on hold to do this. They're people who knew me and trusted me so even though we didn't have a finished script and score, they committed to me because of our relationship.

Theresa: This is not how it's normally done.......
Frank: This is the only new work that we have ever done that was written specifically for all the principals in mind. Yes. This is unique and this is not the rule. Normally, you write a show with the very best material you can create, and then you go out to New York and L.A., and Houston and where ever hold your auditions, and try to plug people that come in the door, and can sing and dance. Plug them into the role that they're suited for.

Theresa: You make the decisions on what to put on for Theatre Under The Stars.......
Frank: That's right. We're a non-profit organization, just like the Symphony or the Opera. And we're operated by a Board of Directors, and I am the president of that Board of Directors. I also have the Artistic Hat. So, I pick the shows that I think would be a balanced season, some with stars, some without, some dance shows, some great music shows, then I communicate that with our Board of Directors and together, in a partnership we bring these things to fruition on the stage here in the Opera House, at the Wortham.

Occasionally, a show will not be to my standards. Sometimes the shows that aren't up to my standards will end up doing the most business, 'cause the public loves it. But, I sorta have to do what I think is best.

Theresa: How do you set your standards?
Frank: Well, we'd like to have the world's greatest to come here. Robert Goulet is just a legend. We were to have had Julie Andrews in Victor Victoria, and she had never ever done a show after she played on Broadway anywhere else. And of course, she had that unfortunate illness. Obviously, my enthusiasm spread to her because she agreed to come here. And she promised to come yet again when her voice is back in shape. She's so sorry she couldn't do Victor Victoria, and she says, "I owe Houston one." So, I'm holding her to that.


Theresa: When did you realize that you've made it?
Frank: Oh, I don't think you ever really make it. It's always new problems, it's always something. Just when you start to find that you're on a roll at the Music Hall, now they're tearing that building down. So you say, "Well, now you've made it 'cause now they're building a $75 million dollar theatre just for us." But suddenly, we have to keep performing. So where are we gonna perform? So, sometimes we're out in the Opera House in the Summer. We'll be out in Sharpstown with the winter shows. The question is, we may think we have made it but will our audience follow us to those other venues? Now we're out there beating the bushes to try to notify people, you know we're not in the Music Hall but we're still performing. So stay with us, keep us producing, and keep us healthy. So, when the new building is ready in 2002, we really will be in peak form.

Theresa: But, you meet all these......Julie Andrews and Robert Goulet.......and you actually approach them.......(laughs) and I mean.......
Frank: (smiles) They're just people, like anybody else. Every major star is always looking for their next My Fair Lady or their next Camelot. So no matter how big a star, if a company down in Houston that started Beauty and the Beast for Disney is gonna do a new musical called Zorro, well, they'd wanna be a part of it. Most of the people that do what we do, we already know them. It's a very small theatre world.

Theresa: Is it?
Frank: Not like in movies and television, where there's thousands and thousands and thousands of actors in sitcoms, you know. In the musical theatre world in New York, there's probably no more than 400 to 500 people working on Broadway in any one time. And we sorta know everybody. And they all have agents. It's not as hard as you think, the agents call me and say, "Frank, Julie Andrews or Barry Williams, they're gonna be available in '98, do you have a project?" And especially, a new project, 'cause everybody wants to do something new. They don't wanna just do another Hello Dolly or Fiddler On The Roof. If you're doing something new that involves the creative juices, that's much more exciting to stars.

In the case of Robert Goulet, we did Camelot with him in 1990 the first time. And it was so successful that he went on tour for about three years, and that ended up in Broadway. And that's because we had the vision to put it all together and to get him excited and interested, 'cause he was the original Lancelot, he was not King Arthur. So, in that case, yes, we're the ones who instituted that. However, on many other shows, I travel a lot, and I will see some star in Los Angeles appearing in something and I'll say, "Gee, would you come to Houston and recreate that role?" And so we re-create shows from Broadway, even. For Julie Andrews, we did, basically the Broadway production of Victor Victoria and that's why she had agreed to come. But we didn't initiate that, she had already played it on Broadway.

Theresa: What do you say to all the naysayers out there who have criticized you for not having Julie Andrews here?
Frank: Well, I think we've been as open and honest as we can. It was our dream, and we're striving to bring the world's greatest. The fact that she committed and wanted to do it, and the doctors told her that her health will become better, we've re-scheduled it. We're not a for profit company, that's just gonna put Julie Andrews on sale and make a lot of money. That's not what we do to give back to the Community. So, I will continue to go out on a limb to try and deliver the world's best here. Rarely, if ever, do touring stars of the statute of Julie Andrews come through Houston. It just doesn't happen. 'Cause most people like that do not tour in shows. We're gonna keep trying and plugging, and occasionally, we'll have a show change or a star change. But when you look at the roll call, we deliver the goods 99 percent of the time.




Randy Rogel as Willard Stroop and Lillian Graff as Wilma Winfrey in Zorro, the Musical. Theatre Under the Stars' swashbuckling hommage to the operettas of old plays through August 30 at the Brown Theater / Wortham Center. Photo by Craig H. Hartley


Theresa: What do you foresee in the future?
Frank: There was an article in the New York Times last Sunday, about how Broadway has become the largest civic light opera in America, 'cause there's more revivals happening on Broadway than new musicals. And how the new musicals are coming out of the regional theatres. So, what I'm predicting is that you're gonna see more and more new shows like Zorro, that's playing here. We had a new show in the Music Hall this year, called The Hot Shoe Shuffle.

So you're gonna see more new theatre and exciting theatre, which is always risky. When the script for South Pacific arrives, you know, all the music's great and the story's great. But when you're creating something from scratch, there is a little element of fear, and I always turn that into a positive. I think when we're a little frightened in life, we work all that much harder. It's more exciting in the Theatre world.

Theresa: And we already have Jesus Christ Superstar coming up in the new 1999 season......
Frank: And we're doing Guys and Dolls, the new version done on Broadway. And then we're gonna do Scrooge, which is a big Christmas Extravaganza, it's a really loony colorful musical version of Charles Dickens' A Christmas Carol. It'd be great fun. We have Tommy Tune's Grand Hotel, Tony-winning show from 3 or 4 years on Broadway. So we have 2 revivals, 2 new shows, and a world premiere. So it's gonna be an exciting season.


Frank M. Young