ALLEY THEATRE
www.alleytheatre.com

Gregory Boyd
Artistic Director

Paul R. Tetreault
Managing Director

ALLEY THEATRE
1999 – 2000 SEASON

-----------------------------------------------------------------------------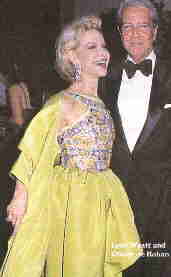 Lynn Wyatt and Olivier De Rohan in Paris, France.


A Lynn Wyatt sighting occurred May 1999 during the Premiere Night of Tom Stoppard's brilliantly funny, pyro -technical tour-de-force TRAVESTIES. Lynn S. Wyatt, a member of the Alley's Executive Committee, is internationally recognized for her devotion to cultural causes. She also serves as a board member of the Houston Grand Opera and as a trustee of The Museum of Fine Arts, Houston and is a supporter of other local arts and charitable organizations. She is a founding trustee of the Princess Grace Foundation and chair of its First Inaugural Gala, a result of her deep friendship with the late Grace Kelly and her family. She has chaired lavish benefits for such organizations as the International Red Cross in Monaco and the Children's Mental Health Services of Houston.

Lynn's accomplishments have led to numerous honors, one of which was being decorated by the French Government's Minister of Culture. She has served as an ambassador for the State of Texas and a trustee of the U.S. Naval Academy. Lynn has received accolades and awards here and abroad for her natural elegance. She has been the recipient of numerous awards for women's achievement and has been named countless times to the lists of best dressed.



Lynn Wyatt


Of the Theatre, Mrs. Wyatt says, "I think that the Alley combines a stimulating, innovative, savvy atmosphere with a continuing, thriving pulse of which people can be proud."

Board Profiles, Summer 1999
AUDIENCE, Alley Theatre Newsletter

-----------------------------------------------------------------------------


ALLEY THEATRE
Houston, Texas
June, 1999

Arthur Miller's A VIEW FROM THE BRIDGE, Shakespeare's ROMEO AND JULIET, and Pulitzer Prize - Winning WIT Highlight the Modern and the Classic in the Alley Theatre's 1999 – 2000 Season

Beginning in September 1999, Artistic Director Gregory Boyd has chosen to include a juxtaposition of the New, the Contemporary and the Classic in the Alley's new season. Included are a trio of new plays by three writers making their Alley debuts: a premiere by Eve Ensler; a brilliant comedy by Douglas Carter Beane; and Margaret Edson's 1999 Pulitzer Prize winner WIT.

Alongside these are three modern masters who helped define 20th century playwriting: Arthur Miller, Tom Stoppard, and Noel Coward (whose 100th Anniversary is being celebrated); and two very contrasting productions of plays written by the young William Shakespeare, on his way to defining an earlier Millennium.

-----------------------------------------------------------------------------


THE ALLEY THEATRE'S 1999 – 2000 SEASON:




Arthur Miller


A VIEW FROM THE BRIDGE


By Arthur Miller
Large Stage
September 24 – October 23, 1999

Arthur Miller's outstanding modern tragedy, A VIEW FROM THE BRIDGE will be directed by Stephen Rayne. Mr. Rayne has been affiliated with England's Royal National Theatre and Royal Shakespeare Company. Alley Resident Company Actor James Black returns to Houston from his Broadway debut in Not About Nightingales to take the role of Eddie Carbone, a Brooklyn longshoreman driven to extremes by a violent and corrosive passion – Miller's most compelling masterpiece.

Following the Alley run, the University of Texas Performing Arts Center will present the Alley's production of A VIEW FROM THE BRIDGE October 28 – 31, 1999 in Austin for the Texas Trailblazer's Series of its 1999 – 2000 season celebrating the contributions Texas artists have made to music, theatre and dance.

-----------------------------------------------------------------------------

LEMONADE


By Eve Ensler
Neuhaus Arena Stage
October 8 – November 7, 1999




(L-R) Lisa Richards as Alice, Sherri Parker Lee as Jane. Photo by T. Charles Erickson. Directed by David Wheeler.



A middle-aged housewife, Alice, finds a strange man at her kitchen table. He has lost his memory: What does she do? She offers him lemonade. LEMONADE, a finalist of this year's Susan Smith Blackburn Prize, is a mysterious and funny script by Eve Ensler, the author of The Vagina Monologues - that award – winning one – woman show that continues to rock audiences and the critics around the world. Ensler's career features plays and film scripts inspired by public issues and how they affect women's lives. Lenka Udovicki will be directing the play, having co-directed Eve Ensler's Necessary Targets featuring Glenn Close at the National Theater in Sarajevo last summer.

-----------------------------------------------------------------------------

A CHRISTMAS CAROL
Adapted from Charles Dickens
NEW PRODUCTION
Large Stage
November 23, 1999 – January 2, 2000

Houston will receive an extraordinary holiday gift this season when the Alley Theatre creates a new production of A CHRISTMAS CAROL. This new adaptation by Stephen Rayne, who also directs, will feature a new scenic design by Douglas W. Schmidt (THE CIVIL WAR). An annual holiday treat, A CHRISTMAS CAROL has become a Houston holiday tradition.

-----------------------------------------------------------------------------


THE COMEDY OF ERRORS


By William Shakespeare
Neuhaus Arena Stage
February 4 – March 5, 2000

Shakespeare's most outrageous comedy begins when Antipholus of Syracuse and his sidekick Dromio, arrive in Ephesus. Unknown to them, their long-lost twin brothers (also named Antipholus and Dromio) are residents of the town. When the visitors encounter complete strangers declaring friendship, creditors demanding payment and women claiming marriage, the stage is set for a wild romp of mistaken identities and comic confusion. Alley Artistic Director Gregory Boyd will direct.

-----------------------------------------------------------------------------


HAY FEVER
By Noel Coward
Large Stage
February 25 – March 25, 2000

In celebration of the Master's 100th anniversary, the Alley offers up one of his best known comedies directed by Stephen Rayne. The audience is invited to spend a weekend in the country with the self-absorbed Bliss family. On this particular holiday each family member has invited an unsuspecting romantic prospect without informing the others and when the rain traps the family and their guests indoors, the situation cannot remain unchaotic.

-----------------------------------------------------------------------------


THE PLAY ABOUT THE BABY
By Edward Albee (U.S. Premiere)
Large Stage
April 7 – May 6, 2000

In an extraordinary coup, the Alley Theatre will produce the U.S. premiere of a major new work by America's preeminent playwright, Edward Albee. The Play About the Baby is a terrifying, funny, complex and enigmatic play - the first since his 1994 Pulitzer Prize - winning THREE TALL WOMEN. Part puzzle play, part vaudeville, The Play About The Baby will be directed by the playwright and will feature award-winning actors Marian Seldex (Off Broadway's THREE TALL WOMEN) and actor Earle Hyman (Off Broadway's DRIVING MISS DAISY) in a new production.

-----------------------------------------------------------------------------


AS BEES IN HONEY DROWN
By Douglas Carter Beane
Neuhaus Arena Stage
April 28 – May 28, 2000

AS BEES IN HONEY DROWN is the critically acclaimed off-Broadway hit by Douglas Carter Beane, the author To Wong Foo, Thanks for Everything, Julie Newmar and founder of New York's Drama Dept., a breeding ground for some of New York's hottest talents (including Nicky Silver, author of The Food Chain). This hilarious story of a young novelist seduced by an offer at instant fame from the producer / socialite Alexa Vere de Vere parodies the contemporary media and the hype that very often highlights style over substance.

-----------------------------------------------------------------------------


THE REAL THING
By Tom Stoppard
Large Stage
May 19 – June 18, 2000


The return of radiance to romantic comedy. THE REAL THING is Stoppard's most moving and surprising play - and the most rewarding comedy of our time. The play begins with Max and Charlotte, a couple whose marriage seems to be about to break up. But nothing one sees on stage is the real thing, and some things are less real than others. Charlotte is an actress who is appearing in a play about marriage written by her husband Henry. Max is an actor married to an actress named Annie. Both marriages are in danger because Henry and Annie have fallen in love. But is it the real thing? THE REAL THING is verbally brilliant, intellectually brilliant, and, above all, theatrically brilliant. "Measurably funny, immeasurably clever, and unexpectedly moving" (New York Daily News). "The most bracing play anyone has written about love and marriage for years" (The New York Times). Gregory Boyd will direct.


TICKET INFORMATION

Season Subscriptions are available now and start as low as $90. Subscriptions may be purchased by calling 713-228-8421 or in person at the Alley Theatre Box Office, 615 Texas Avenue.

All plays are subject to change.