THEATRE UNDER THE STARS
WWW.TUTS.COM
1998 Summer Musicals at the Wortham Center

===============================================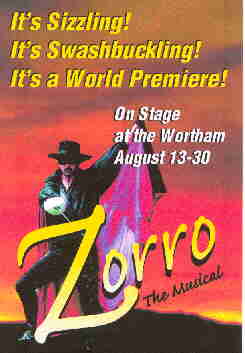 ZORRO
August 13 - 30, 1998

Adapted by Jim Bernhard
Based on the magazine serial "The Curse of Capistrano" by Johnston McCulley

The World's Greatest Love Story.......................Set to the World's Greatest Music
Beethoven Bizet Brahms Debussy Falla Greig Lehar Offenbach Puccini
Rimsky-Korsakov Sain-Saens Strauss Tchaikovsky Wagner

It's Sizzling! It's Sumptuous! It's Swashbuckling! It's a World Premiere!
The dashing Robin Hood of old California, the original masked man whose identity is known to no one, at last bursts onto the musical stage with the passionate romance, spine-tingling suspense and hair-raising excitement in this classic tale of good versus evil. Now, for the first time, melodies by the world's greatest composers have been newly arranged for the musical theatre, and delicious dollops of hilarious comedy have been added to the panoramic settings, sumptuous costumes and death-defying swordplay of this original, timeless tale. Zorro brings chills, thrills, spills - and laughter - for the whole family.

===============================================


CAMELOT
July 21 - August 2, 1998

Theatre Under The Stars' "Summer Musicals at the Wortham Center" presents Robert Goulet in Camelot, book and lyrics by Alan Jay Lerner, music by Frederick Loewe. Showtime is 8pm Tuesday - Friday, 2pm and 8pm Sat., and 2pm and 7:30pm Sunday.
International singing star Robert Goulet burst into the national limelight when he created the role of Lancelot opposite Julie Andrews and Richard Burton in Broadway's 1960 premiere of Camelot. Now he returns to Houston as King Arthur in that hit musical by Alan Jay Lerner and Frederick Loewe, the role he first performed in 1990 for Theatre Under The Stars. That production broke all TUTS' previous box office records and paved the way for his subsequent national tour and Broadway run of Camelot. Mr. Goulet was last seen touring nationally in TUTS' production of Man of La Mancha in 1997 - 98.
===============================================
JOSEPH AND THE AMAZING TECHNICOLOR DREAMCOAT
June 30 - July 12, 1998
Theatre Under The Stars' "Summer Musicals at the Wortham Center" presents David Osmond and Jodi Benson in the family favorite, Joseph and the Amazing Technicolor Dreamcoat, music by Andrew Lloyd-Webber, lyrics by Tim Rice. Showtime is 8pm Tuesday thru Friday, 2pm and 8pm Saturday (except July 4 at 7:30pm) and 2pm and 7:30pm Sunday.
David Osmond, handsome tenor nephew of Donny and Marie, plays the title role in Joseph and the Amazing Technicolor Dreamcoat, the Bible-story musical created by composer Andrew Lloyd-Webber and lyricist Tim Rice prior to their phenomenally successful Jesus Christ Superstar and Evita. Veteran Broadway actress and Tony nominee Jodi Benson, also a children's favorite as the voice of Ariel in Disney's The Little Mermaid, does vocal magic in the role of The Narrator. Also featured in the cast are other members of The Osmonds' "2nd Generation" including five of David's six brothers. All appear regularly at the Osmond Family Theater in Branson, Missouri.


===============================================
VICTOR VICTORIA
May 10 - 30, 1998

Barry Williams Teams with Original Broadway Stars Anne Runolfsson, Michael Nouri,
Tara O'Brien in TUTS' Victor / Victoria - Final Music Hall Production.

VICTOR VICTORIA, Hollywood film giant Blake Edwards' 1996 Broadway sensation, will become the final production ever in the historic Music Hall when Theatre Under The Stars gives the gender-bending musical its first post-Broadway staging May 10-30 starring Barry Williams of The Brady Bunch, and the original Broadway cast members Anne Runolfsson, Michael Nouri and Tara O'Brien. Broadway's #1 box office smash of 1996, Victor / Victoria received a whopping seven award nominations from the Outer Critics Circle,who ultimately named the show the "Outstanding Broadway Musical of 1996."

===============================================





HOT SHOE SHUFFLE!
March 6 - 22, 1998

World Premiere
Book and Lyrics by David Goldsmith; Music by Megan Cavallari
Story and Concept by David Atkins and Max Lambert; Directed by David Atkins

It's "Crocodile Dundee" meets "42nd Street" when the Thunder from Down Under takes New York by storm as Australian and American cultures clash in this riotous new tap dance musical extravaganza, HOT SHOE SHUFFLE. Conceived and directed by Australian superstar David Atkins and co-choreographed by TAP DOGS' creator, Australian Dein Perry, this all-singing, all-dancing, tap marathon of a musical charges into Houston and bounds onto the Music Hall stage.

===============================================





GIGI
January 16 - February 1, 1998
Book and Lyrics by Alan Jay Lerner; Music by Frederick Loewe
Based on the novel by Colette

Gavin MacLeod and Liliane Montevecchi star in an all-new stunning production of Lerner and Loewe's GIGI! In a "Coup de Theatre," TUTS has secured Broadway and television star Gavin MacLeod (of "Love Boat" fame) and international French star and Tony Award-winner Liliane Montevecchi to star in this major revival of the Broadway and film classic musical gem. Based on the romantic writings of Colette, GIGI is the story of a precocious teenager maturing into a beguiling young woman. The stunning new production is enhanced by new material from the original Colette novel as well as new songs from the Academy Award-winning score of the MGM film, which includes Thank Heaven for Little Girls, The Night They Invented Champagne, I Remember It Well and the glorious title song, GIGI.


===============================================





OLIVER!
December 5 - 21, 1997
Music, Lyrics and Book by Lionel Bart

Holiday Fun for the Entire Family! A Dickens of a family musical! The colorful characters of Charles Dickens' classic "Oliver Twist come brilliantly to life in Victorian London. Little Oliver Twist, hoping for the haven of a loving family, escapes the orphanage only to fall into the hands of the wily rogue Fagin and his gang of miniature pick-pockets. "Please Sir, I want some more" sets the musical number Food, Glorious Food into frenzied motion, while the Tony-Award winning score also includes As Long As He Needs me, Consider Yourself At Home and You've Got to Pick a Pocket or Two. This show truly captures the joys and challenges of youth and will be sure to warm the hearts of your entire family.