THEATRE UNDER THE STARS
PRESENTS
TUTS' 2017 - 2018 SEASON
Houston, TX - Building upon the artistic acclaim of the of 2016-17 Season and reaffirming the commitment to bring "more theatre to more people", Theatre Under The Stars (TUTS) announced today a dynamic 2017-18 Season; celebrating the prismatic and perennial impact of musical theatre.
Five Show Seasons Subscriptions and Pick Four packages are also available but do NOT include the "Special Engagement". The ONLY way to access tickets for the "Special Engagement" will be to purchase a full, six-show Season Subscription.
-0-0-0-0-0-
SLEEPING BEAUTY AND HER WINTER KNIGHT

December 12 – 24, 2017
The familiar story of Sleeping Beauty gets mixed up with contemporary pop culture creating a holiday treat. SLEEPING BEAUTY AND HER WINTER KNIGHT is a modern twist on the classic fairy tale, set to a contemporary score featuring the music of Aloe Blacc, Blondie, Bruno Mars, Jessie J, John Legend, Katy Perry, Mariah Carey, LMFAO, Pharrell Williams and Survivor.
Director Linda Goodrich is returning to TUTS after directing the production of MARY POPPINS here in 2016. Audiences can expect many different interactive elements from this one-of-a-kind production including boo'ing the evil villain, cheering for the heroes and partying down to the pop songs everyone knows and loves! Families will be singing along and dancing in the aisles with this fun and uplifting soundtrack of hits. Presented in collaboration with Lythgoe Family Panto, SLEEPING BEAUTY AND HER WINTER KNIGHT is visually beautiful, great fun, irreverent and will be tailored to incorporate local celebrities, Houston landmarks and Brand Integration. Beyond the performance itself, TUTS promises a truly immersive holiday destination for the whole family. In addition to theatre tickets a wide variety of enhanced experiences will be offered ranging from complimentary to VIP add-on packages.
SLEEPING BEAUTY AND HER WINTER KNIGHT is based on the European fairy tale where a Princess named Aurora has a curse put on her by an evil fairy Carabosse. By her 18th birthday, Aurora will prick her finger on a spindle and fall asleep for 100 years. The Royal Family live under protection from Silly Billy and Nanny Tickle, but Aurora does prick her finger and falls asleep for 100 years. A handsome Prince saves the day by defeating the wicked fairy and giving Aurora a true love kiss. Broadway and TV stars perform in this interactive musical fairy tale with comedy, magic and pop music sure to delight children of all ages!
-0-0-0-0-0-
-0-0-0-0-0-
February 20 - March 4, 2018
WINNER of FOUR 2010 TONY AWARDS® including BEST MUSICAL!
From the underground dance clubs of 1950s Memphis, Tennessee, comes the Tony Award® winning musical that bursts off the stage with explosive dancing, irresistible songs and a thrilling tale of fame and forbidden love. Inspired by actual events, MEMPHIS is about a white radio DJ who wants to change the world and a black club singer who is ready for her big break. Come along on their incredible journey to the ends of the airwaves – filled with laughter, soaring emotion and roof-raising rock 'n' roll.
Winner of four 2010 Tony Awards® including Best Musical, MEMPHIS features a Tony®-winning book by Joe DiPietro (I LOVE YOU, YOU'RE PERFECT, NOW CHANGE and ALL SHOOK UP) and a Tony®-winning original score with music by Bon Jovi founding member David Bryan. MEMPHIS was highly celebrated during its successful Broadway run, on National Tour, and helped pioneer the industry as one of the first shows available for streaming on BroadwayHD.com. While highly entertaining and evocative (with its R&B based score, evoking popular songs from the 50's and 60's), it also has a strong political message that comes from its era, but certainly speaks strongly to contemporary audiences in resonant and relevant ways, which give it perhaps an even greater appeal than when originally produced.
-0-0-0-0-0-
March 13 - 25, 2018
2016 OUTER CRITICS CIRCLE AWARD WINNING & 2016 TONY® AWARD NOMINATED BEST MUSICAL From Grammy® winners and Tony® nominees Steve Martin and Edie Brickell comes the new Broadway musical, BRIGHT STAR.
With direction by Tony Award® winner Walter Bobbie and choreography by Josh Rhodes, BRIGHT STAR won the 2016 Outer Critics Circle Awards for Best Musical and Best Score and the Drama Desk Award for Outstanding Music. It also received five 2016 Tony Award® nominations, including Best Musical, Best Score, Best Book, Best Lead Actress in a Musical, and Best Orchestrations.
Inspired by a real event, BRIGHT STAR tells a sweeping tale of love and redemption set against the rich backdrop of the American South in the 1920s and '40s. When literary editor Alice Murphy meets a young soldier just home from World War II, he awakens her longing for the child she once lost. Haunted by their unique connection, Alice sets out on a journey to understand her past — and what she finds has the power to transform both of their lives An uplifting theatrical journey that holds you tight in its grasp,BRIGHT STAR is as refreshingly genuine as it is daringly hopeful.
-0-0-0-0-0-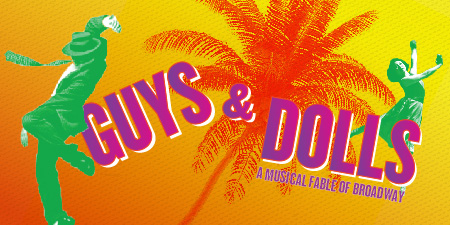 Guys and Dolls
June 12 – 24, 2018
After recently igniting Houston with IN THE HEIGHTS, director Nick DeGruccio returns to TUTS with a dynamic and modern reimagining of the beloved classic, GUYS + DOLLS!
Travel back to a time when gangsters and gamblers ruled the underworld of New York City. This classic musical with music and lyrics by Frank Loesser and book by Jo Swerling and Abe Burrows, based on some of the short stories by Damon Runyon premiered on Broadway in 1950, and the following year won five Tony Awards® in every category in which it was nominated, including Best Musical. The show has had several Broadway and London revivals, as well as a 1955 film adaptation starring Marlon Brando, Jean Simmons, Frank Sinatra and Vivian Blaine. Always entertaining, GUYS + DOLLS will keep you laughing with its cast of colorful characters.

<![if !supportLineBreakNewLine]>
<![endif]>
-0-0-0-0-0-
How To Subscribe
Subscriptions to TUTS' 2016/17 mainstage season start at $184, and are available:
· Online at TUTS.com
· Phone at (713) 558-TUTS
· In person at the TUTS Box Office (800 Bagby St. – Downtown Houston)
· Discounted group subscriptions of 15 or more are available at (713) 558-8888 or via email at groupsales@tuts.com
VIP Subscribers – How to Access the Best Seats
Join TUTS as a Star Patron, Stage Door Circle Member or Founder's Club Member. VIP subscribers enjoy exclusive benefits from intimate cast talk-backs and exclusive events with show partners to backstage tours and more! Visit TUTS.com/clubs to learn more about benefits at each level.
For more information visit TUTS.com.
Theatre Under The Stars
800 Bagby Street
Houston, TX, 77002
The Hobby Center for the Performing Arts