THEATRE UNDER THE STARS
PRESENTS
TUTS' 2021 - 2022 SEASON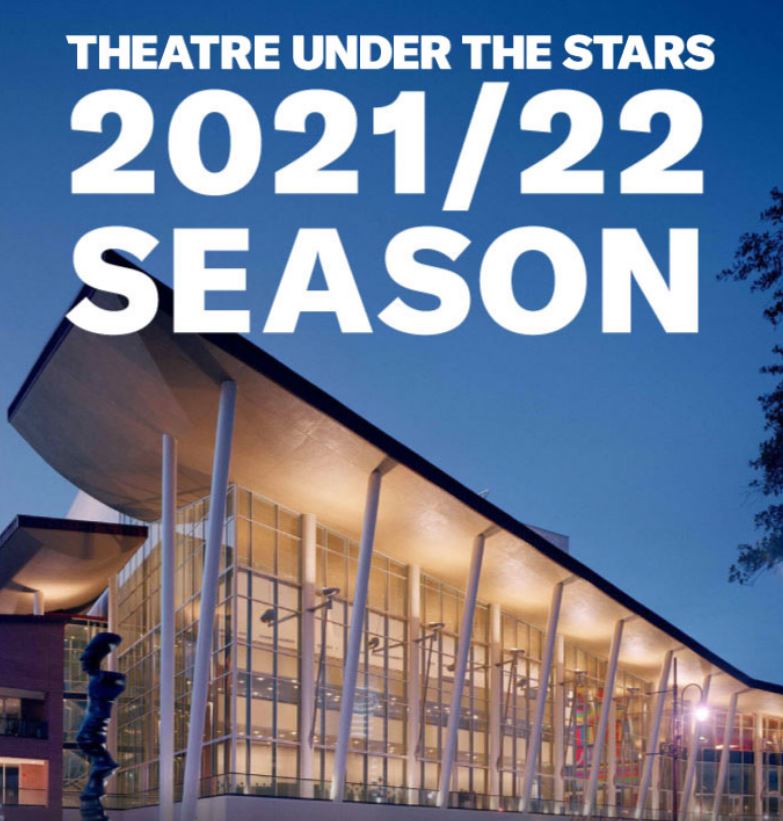 THEATRE UNDER THE STARS PRESENTS THE 2021/2022 SEASON
GET SEASON TICKETS
TO HOUSTON'S HOME FOR MUSICAL THEATRE!
EXPERIENCE YOUR FAVORITE BROADWAY HITS AT THE HOBBY CENTER, STARTING THIS OCTOBER 2021.
ANGST RIDDEN
By Theresa Pisula
July 1, 2021
TUTS is back!!!! Theatre Under The Stars opens the 2021 – 2022 season with Rock Star Stacee Jaxx. Played by Tom Cruise in the movie, and set in 1987 Los Angeles, ROCK OF AGES features the music of many '80s Rock and Glam Metal artists including: Def Leppard, Journey, Scorpions, Poison, Foreigner, Guns N' Roses, Pat Benatar, Joan Jett, Bon Jovi, Twisted Sister, Whitesnake, REO Speedwagon and others.
Everybody wants to be a Rock Star. As a status symbol, it is the ultimate high. Probably because this level is one of the most difficult to achieve. Everyone puts you on that pedestal. Synonymous with the ultimate success mortal god. Not to be confused with the immortal GOD. The One who lives higher than the heavens. The big Boss, overseeing and overlooking all of us. The One and Only LORD, whose name should never be used in vain. Whose name is spelled with a capital G.
The general public (great consumers all) treat the Rock Stars, these "earthly" gods as objects of fascination, passion and obsession. A pedestal so high that it reaches an unattainable, way-up-above-the-clouds high stratosphere. Just like a quote in the 2020 movie THE HIGH NOTE starring Dakota (daughter of Miami Vice Don) Johnson and Tracee Ellis (daughter of Motown legend Diana) Ross: "Yeah, it's all about being a Rock Star. Dating a Rock Star. And Heroin," says Max played by Bill Pullman.
Oh, but it's not just heroin. We're talking crack cocaine, meth amphetamine, MDA, and legal drugs like alcohol and Xanax. But if you think about it, maybe that's how they became so great. Through chemical dependency these gods were able to conquer the highest level of artistry and inspiration.
PLUSH by Stone Temple Pilots
Scott Weiland
October 27, 1967 – December 3, 2015
….. Where you going for tomorrow?
Where you goin' with the mask I found?
And I feel, and I feel
When the dogs begin to smell her
Will she smell alone?
When the dogs do find her
Got time, time to wait for tomorrow
To find it, to find it, to find it
When the dogs do find her
Got time, time to wait for tomorrow
To find it, to find it, to find it
-0-0-0-0-0-
ROCK OF AGES (TUTS at the Hobby Center)
OCTOBER 5 – 17, 2021
Rock of Ages takes you back to the time of bands with big egos, big guitar solos and even bigger hair! Featuring the music of hit bands including REO Speedwagon, Pat Benatar, Twisted Sister, Bon Jovi, Styx and Journey, this hit musical was nominated for five Tony Awards including Best Musical.
-0-0-0-0-0-
But I've been to see Prince in concert. Never mind the fact that he can play a record 27 instruments. Was it in 1985 in the Superdome where he packed 90,000 people during the Purple Rain tour? And Prince is tiny. But despite his slight frame, his musical talent is undeniably gargantuan. As he jumps from the piano to the guitar, then runs over to the drums, then bass guitar, the feeling that you are in the presence of this lyrical poet whose over-encompassing existence is overwhelming as he effortlessly fills the stadium. When throngs of people gather in communion, all knowing and singing the words to Prince's songs: Raspberry Beret, Little Red Corvette, Let's Go Crazy and When Doves Cry.
It's not hard to see that everyone came in attendance to be in the presence of a giant. A once-in-a-lifetime experience that will never be repeated again. The understanding that you are in the company of such greatness that fills you deep within your soul, is nothing short of heavenly.
BLACK HOLE SUN by Soundgarden
Chris Cornell
July 20, 1964 – May 18, 2017
In my eyes
Indisposed
In disguise
As no one knows
Hides the face
Lies the snake
And the sun
In my disgrace
Boiling heat
Summer stench
'Neath the black
The sky looks dead
Call my name
Through the cream
And I'll hear you
Scream again
Black hole sun
Won't you come
And wash away the rain?
Black hole sun
Won't you come?
Won't you come?
Stuttering
Cold and damp
Steal the warm wind
Tired friend
Times are gone
For honest men
And sometimes
Far too long
For snakes
In my shoes
A walking sleep
And my youth
I pray to keep
Heaven send
Hell away
No one sings Like you anymore
-0-0-0-0-0-
SISTER ACT (TUTS at the Hobby Center)
NOVEMBER 2 – 14, 2021
Based on the hit film, Sister Act is the feel-good musical comedy smash that has audiences jumping to their feet! Featuring original music by Tony and eight-time Oscar® winner, Alan Menken (Newsies, Beauty and the Beast, Little Shop of Horrors), this uplifting musical was nominated for five Tony Awards, including Best Musical.
-0-0-0-0-0-
Sam Beste, the pianist for Amy Winehouse was quoted as saying "Amy used to always say to me that it was a dream to do those sorts of shows. To play in jazz clubs to small audiences. She had one of the most, pure relationships to music. Such an emotional relationship to music. That she needed music as if it were a person. And that she would die for it." Even though …..
REHAB by Amy Winehouse
September 14, 1983 – July 23, 2011
They tried to make me go to rehab,
I said no, no, no
Yes I've been black and when I come back, you'll know, know, know
I ain't got the time
And if my daddy thinks I'm fine
Just try to make me go to rehab
I won't go, go, go
I'd rather be at home with Ray
I ain't got seventy days
Cos there's nothing, there's nothing you can teach me
That I can't learn from Mr. Hathaway
Didn't get a lot in class
But I know it don't come in a shot glass
--0-0-0-0-0-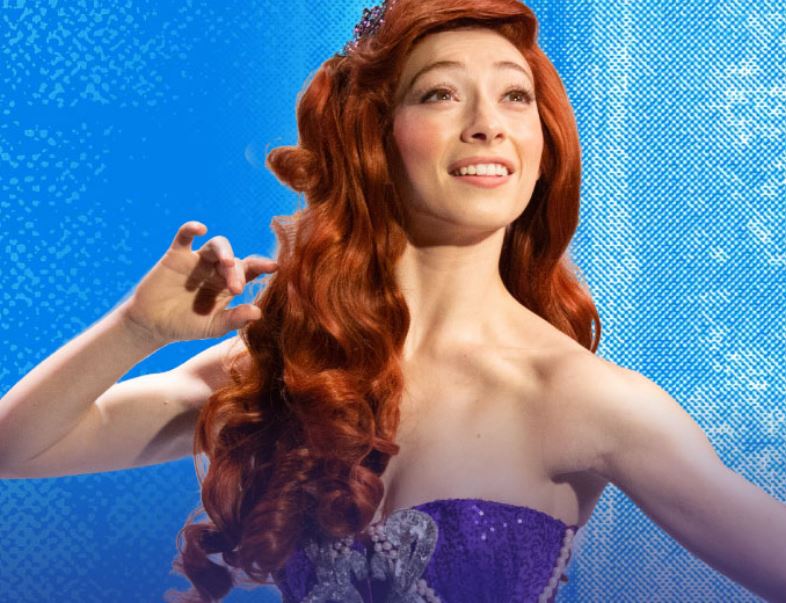 THE LITTLE MERMAID (TUTS at the Hobby Center)

DECEMBER 7 – 24, 2021
Based on one of Hans Christian Andersen's most beloved stories and the classic animated film, The Little Mermaid is a hauntingly beautiful love story. With music by eight-time Academy Award® winner, Alan Menken, lyrics by Howard Ashman and Glenn Slater and a compelling book by Doug Wright, this Broadway gem will capture your heart with its irresistible songs, including "Under the Sea," "Kiss the Girl" and "Part of Your World."
-0-0-0-0-0-
Don't kid yourself. These mortal gods were told to stop. Everyone around them begged and pleaded for them to stop. But they didn't. They didn't want to stop. They wanted to get high. If by some miracle, they were able to wake up the next morning, they were at it again. Constantly chasing the ultimate euphoria. And that's the God's honest truth. They did not want to come down from that high. And this is not just some cheap, natural high. This is a very expensive chemically induced high that sucked up all their royalty checks.
Speaking of royalty checks and the almighty dollar, you know that Bill "Microsoft" Gates and Jeff "Amazon" Bezos are divorced and single now, right? How do you think their profile will read in Match.com? One will say "the richest man on planet earth." The other one will read "the richest man in the entire universe." These profile descriptions will work for either of them. Depending on what the current market dictates.
But then again, who's counting? It's too much! I can't even count that high. I mean, how high is too high? When will it ever be enough?
Price tag
By rock star Jessie J
Seems like everybody's got a price
I wonder how they sleep at night
When the sale comes first and the truth comes second
Just stop for a minute and smile
Why is everybody so serious?
Acting so damn mysterious
Got shades on your eyes
And your heels so high that you can't even have a good time
Everybody look to their left
Everybody look to their right
Can you feel that, yeah
We're paying with love tonight
It's not about the money, money, money
We don't need your money, money, money
We just wanna make the world dance
Forget about the price tag
Ain't about the, uh, cha-ching cha-ching
Ain't about the, yeah, b-bling b-bling
Wanna make the world dance
Forget about the price tag
We need to take it back in time
When music made us all unite
And it wasn't low blows and video hoes
Am I the only the one getting tired?
Why is everybody so obsessed?
Money can't buy us happiness
Can we all slow down and enjoy right now?
Guarantee we'll be feeling alright

RODGERS AND HAMMERSTEIN'S
SOUTH PACIFIC

FEBRUARY 8 – 20, 2022, TUTS at the Hobby Center
More timely than ever, this Rodgers and Hammerstein landmark musical proves that even the backdrop of a tropical paradise cannot shelter its residents from the prejudices of World War II. South Pacific is the winner of the 1950 Pulitzer Prize for Drama and 10 Tony Awards, including Best Musical.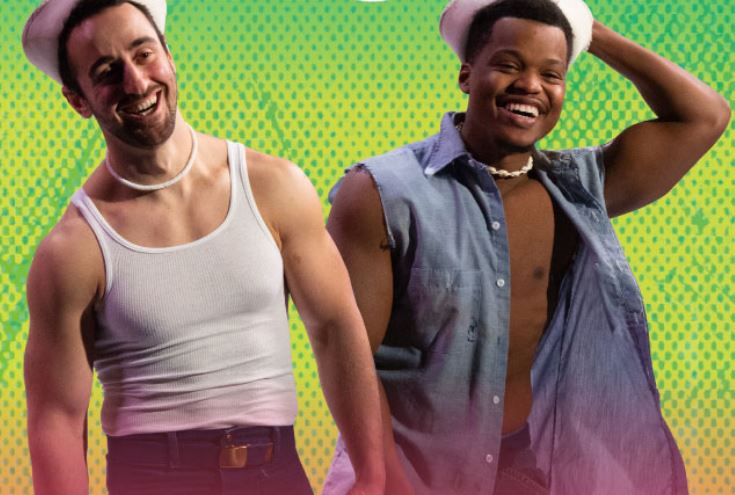 -0-0-0-0-0-
"I am the world's most dangerous predator. Everything about me invites you in. My voice, my face, even my smell. As if I would even need any of that. As if you could outrun me. As if you could fight me off.
I am designed to kill. I've killed people before. I wanted to kill you. I've never wanted a human's blood so much in my life.
But it's you. Your scent. It's like a drug to me. You're like my own personal brand of heroin."
---- from the movie TWILIGHT written by rock star Stephenie Meyer
Any mere mortal could have lived off of one Stone Temple Pilots song. Any regular Joe blow could have lived a happy, fulfilling, long and satisfying life off of one STP song. And they had multiple: Interstate Love Song, Big Empty, Vasoline, Creep, Lady Picture Show, Wicked Garden, just to name a few. My very favorite STP song is Big Bang Baby. But then again, Scott Weiland was never really fully satisfied. No matter how high he got, he kept reaching for more. One can blame it on greed. Or one can say it's his ambition. Unfortunately, for these gods, that high was never high enough.
Oh, how the mighty have fallen. Like Michael Jackson, they thought they were invincible. They became chemically dependent to the euphoria. They were addicted to the happiness created in the brain by the use of these mind-altering drugs. They acquired an unhealthy dependence to the chemical imbalance through substance abuse. Their entire existence, the main purpose of their life is to avoid everyday man's pain, every blow Joe's hurt and suffering. They just wanted to be high all the time.
Anyway, who cares? Scott sure as hell didn't.
-0-0-0-0-0-
COME FROM AWAY
MARCH 22 – APRIL 3, 2022 (TUTS at the Hobby Center)
This New York Times Critics' Pick takes you into the heart of the remarkable true story of 7,000 stranded passengers and the small town in Newfoundland that welcomed them. Cultures clashed and nerves ran high, but uneasiness turned into trust, music soared into the night, and gratitude grew into enduring friendships. Don't miss this breathtaking new musical written by Tony nominees Irene Sankoff and David Hein, and helmed by Christopher Ashley, winner of the 2017 Tony® Award for Best Director.
-0-0-0-0-0-
The concept that these users and abusers didn't quite grasp is that life is a cycle. To be able to appreciate the highs, you have to endure the lows. The trick is to balance the bicycle wheel while living your day-to-day existence. Some people experience the worst life-threatening calamities, the most wicked collateral damage in their journey in reaching for the stars. Such is life.
Do you remember that Superstar named Jesus Christ who underwent and suffered Crucifixion and a crown of thorns? Yeah, that guy. He even had to carry his own cross. Did you ever think that maybe we have to go to the very bottom of the barrel to achieve the highest of the highs? But what do I know? I am just a mere mortal. A simpleton, born with original, mortal sin.
Speaking of the devil, what the hell happened to Chester Bennington? Did you not find it ironic that he sang the most beautiful rendition of Hallelujah at Chris Cornell's funeral? A funeral, if I might add, that was attended by the cream of the creatively artistic crop: Brad Pitt, Christian Bale, Josh Brolin, Courtney Love and Pharrell, just to name a few. And then, less than three months after this monumental event, Chester "linkin park" Bennington commits suicide by hanging. Exactly like Chris "Soundgarden" Cornell's death, hanging by suicide. Way to go, gentlemen. Even though Chester sang at Mr. Cornell's funeral, Chris couldn't return the favor. The Soundgarden front man was in disguise and indisposed. And isn't it ironic. Don't you think?
-0-0-0-0-0-
The original Jersey Boys. Click on the above picture link to view the Houston Broadway performance in January 2008.
JERSEY BOYS
MAY 10 – 22, 2022 (TUTS at the Hobby Center)
They were just four guys from Jersey, until they sang their very first note. They had a sound nobody had ever heard… and the radio just couldn't get enough of. But while their harmonies were perfect on stage, off stage it was a very different story — a story that has made them an international sensation all over again. Go behind the music and inside the story of Frankie Valli and The Four Seasons in the Tony and Grammy Award®-winning true-life musical phenomenon, Jersey Boys. From the streets of New Jersey to the Rock and Roll Hall of Fame, this is the musical that's just too good to be true.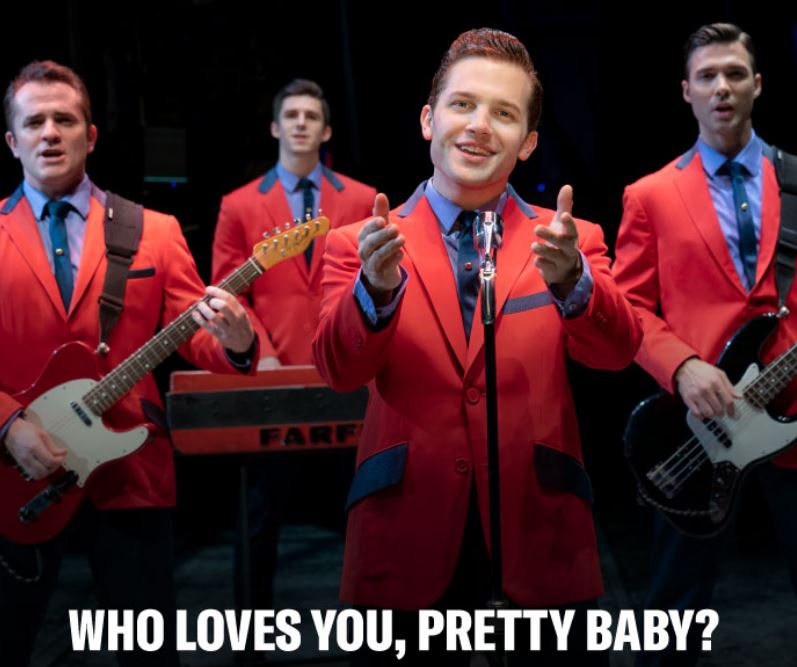 -0-0-0-0-0-
So, why, you ask, should I dare do a compilation of lyrics of the Rock Stars of recent years? Because I wanted to define and differentiate that these are real life rock stars. Not pretend ones like Tom Cruise. No, scratch that, I meant dead. Real dead rock stars.
The earth shook, infused with their exceptional ability to astound the world. Their individuality is so unique, like a diamond in the rough. These are the stars that shone so bright, they burned very quickly. The ones who never successfully completed a rehabilitation program. I wanted to do a summary, as a reminder, of the legendary tales of these bright once-in-a-lifetime rock stars. Just because they're dead doesn't mean they can now be forgotten, right?
What I really want is that their songs, their poetry, their mere existence will inspire future musicals that will be repeated over and over again. Like Sound of Music, or Camelot, or Fiddler on the Roof. Why not? Billy Joel has one. Freddy Mercury's Queen has one. Even Rod Stewart has one. Why not the rest of them?
And in conclusion, I want to gift you the lyrics to the definitive DIVORCE song of ALL TIME: Linkin Park's IN THE END. Don't even pretend you don't know what I'm talking about. As I am typing these lyrics, I am watching the YouTube video. Of which at this writing, has had over a Billion hits. Yes sir, that's billion with a capital B. And I can't help toss my head around as I sing and rap as Chester Bennington screams in agony. The very words that were sung back to him at every concert. And I'm there with you, enjoying every second of anguish and torturous pain of this great Linkin Park song.
IN THE END by Linkin Park
Chester Bennington
March 20, 1976 – July 20, 2017
One thing I don't know why
It doesn't even matter how hard you try
Keep that in mind, I designed this rhyme
To explain in due time
All I know
Time is a valuable thing
Watch it fly by as the pendulum swings
Watch it count down to the end of the day
The clock ticks life away
It's so unreal
Didn't look out below
Watch the time go right out the window
Tryin' to hold on, did-didn't even know
I wasted it all just to watch you go
I kept everything inside and even though I tried
It all fell apart
What it meant to me will eventually
Be a memory of a time when I tried so hard
I tried so hard and got so far
But in the end it doesn't even matter
I had to fall to lose it all
But in the end it doesn't even matter
One thing, I don't know why
It doesn't even matter how hard you try
Keep that in mind, I designed this rhyme
To remind myself how I tried so hard
In spite of the way you were mockin' me
Acting like I was part of your property
Remembering all the times you fought with me
I'm surprised it got so far
Things aren't the way they were before
You wouldn't even recognize me anymore
Not that you knew me back then
But it all comes back to me in the end
You kept everything inside and even though I tried
It all fell apart
What it meant to me will eventually
Be a memory of a time when I tried so hard
I tried so hard and got so far
But in the end it doesn't even matter
I had to fall to lose it all
But in the end it doesn't even matter
I've put my trust in you
Pushed as far as I can go
<![if !supportLineBreakNewLine]>
<![endif]>
For all this
There's only one thing you should know
I've put my trust in you
Pushed as far as I can go
For all this
There's only one thing you should know
I tried so hard and got so far
But in the end it doesn't even matter
I had to fall to lose it all
But in the end it doesn't even matter
As a TUTS season ticket holder, you are supporting the future of musical theatre in Houston.
Subscribers get the best of everything! The best seats. The best value. The best benefits.
FULL SUBSCRIPTION
SEASON TICKETS FOR
ALL SIX SHOWS
START AT JUST
$198!
Full season subscribers retain their seats for future seasons and get first access for seat upgrades!
partial SUBSCRIPTION
PACKAGES OF
THREE OR MORE SHOWS
START AT
JUST A $99!
Subscribers with a partial season package may not retain their seat locations for future seasons.
QUESTIONS? EMAIL US AT GUESTSERVICES@TUTS.COM OR CALL US AT 713-558-8887
EXCLUSIVE SUBSCRIBER BENEFITS
SUBSCRIBERS GET THE BEST OF EVERYTHING!
THE BEST SEATS, THE BEST PRICES, THE BEST BENEFITS
SAVE UP TO

29% OFF

REGULAR TICKET PRICES!
PRIORITY SEATING WITH BIG BENEFITS
Get seated before tickets go on sale, and save up to 29% off regular ticket prices. You'll experience the same great seats for every performance, and six-show subscribers may renew the same seats for future seasons — or move to the front of the line for seating upgrades!
FREE EXCHANGES
Exchange your seats into another performance of the same musical, no additional fees.
FREE SHOW SWAPPING
Exchange your seats into another performance of the same musical, no additional fees.
DISCOUNTS ON ADDITIONAL SEATS
Save on additional seats for family and friends, and get early access before tickets go on sale to the public.
LOST TICKET REPLACEMENT
No need to worry about lost tickets with our subscriber ticket replacement services.
ADDITIONAL PERKS
Save 10% on student enrollments at the Humphreys School of Musical Theatre and The River.
Advance access to seats for special TUTS events.
For more information visit TUTS.com
Theatre Under The Stars
800 Bagby Street
Houston, TX, 77002
The Hobby Center for the Performing Arts